Welcome to WayneTurmel.com. This is the best spot on the web to find out about the author, speaker, and communication expert Wayne Turmel. If you want to know about my big-boy work at the Remote Leadership Institute, please visit us there. Also, you can find my non-fiction work at my Amazon Author Page.
Meanwhile, here's a little about me and what's going on.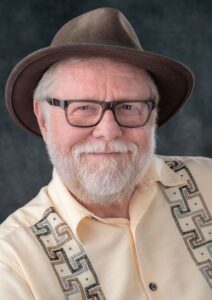 My newest novel, the third and final part of the Werewolf PI series, Johnny Lycan and the Last Witchfinder is coming out May 2, 2024!
I'm originally from the small town of Mission, British Columbia, Canada. I now live and work in Las Vegas, Nevada.
After nearly 20 years as a standup comedian, touring through Canada, the US and the Caribbean I had to run away from the circus and join the real world. I'm blessed to have a day job I love, but this isn't about that.
I've written most of my life. Articles and blog posts have appeared in such odd places as Utah CEO Magazine, Writers Digest Online, Huffington Post and many more. More recently (and why you're here) I've been writing fiction professionally since 2014, with the publication of The Count of the Sahara. My short stories can be found on the Short Stories and other Pieces page. Learn about my novels here.
For all my social media links, click here.
I live with my wife, The Duchess, and Mad Max, Defender of the Realm and most manly of poodles.