In 1925, "Count" Byron de Prorok was the most famous archaeologist in the world. By the summer of 1926, his marriage, his career and his reputation lay in ruins. "The Count of the Sahara" is the exciting account of his meteoric rise and fall.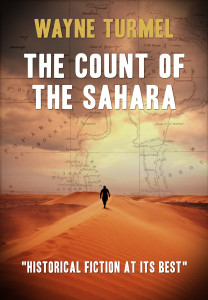 This sweeping novel tells the tale of De Prorok's rise and fall through the eyes of Willy Braun, a 19 year old German-American desperate to flee his life in Milwaukee. When Willy uses his only real talent, his technical skills, to save a lecturer from disaster at the hands of an incompetent assistant, he meets Count Byron De Prorok, a glamorous lecturer and world famous archaeologist. De Prorok is everything Willy isn't; glamorous, handsome, a brilliant speaker and, most of all, rich. The Count needs a projectionist and assistant for the rest of his tour, Willy wants out of Milwaukee for good. This may be his ticket out, but can he trust his future to someone who may not be all he claims?
As Willy and the Count tour snowy Midwestern cities in the winter of 1926, weaving tales of his adventures and basking in his fame, the story flashes back to the Franco-American Sahara Expedition of 1925. Unearthing the ancient tomb of Tin Hinan, the fabled Mother Queen of the Tuareg nation, cemented the Count's already flourishing reputation, but warring local tribes, bad weather and personality clashes make the truth more stirring—and very different from–the tales he tells on the lecture circuit.
What starts as a simple job offer is complicated when a robbery attempt reveals the Count may be hiding stolen jewels from Tin Hanan's tomb. Caught up in a web of deceit, bootleggers and Pinkerton detectives, de Prorok could be the young man's ticket to a new life, or another crushing disappointment in a life too full of them.
This fact-based novel contains adventure, lively characters and sly humor seldom found in historical fiction.
Good historical fiction leaves you entertained while you learn something. Excellent historical fiction leaves you wanting to know more about the history and wondering where the history ended and the fiction began. This is excellent historical fiction.
Kevin Eikenberry, author of Remarkable Leadership
Wayne Turmel has created an exciting and well-crafted novel that draws the reader in from page one. The hero is Willy but the most interesting character is the fascinating Count de Prorok, a figure that any writer of historical fiction would be proud to have in their book. The story is well paced, set in an interesting period and full of surprises. I look forward to more.
Peter Darmon, author of "The Sword Brothers" series
NOW Available on Kindle,   and in paperback from Amazon and directly from the publisher: TheBookFolks.com