https://www.amazon.com/Crown-Pride-Honour-Wars-Roses-ebook/dp/B07DZMVKFJ/I define historical fiction as any fiction taking place in a different time in history than the one we're in now. This sounds obvious, but you'd be amazed how picky some people (also known as histfic snobs) can be. For example, if there's enough real history involved, I include alternative history and historical fantasy. Many don't, and are quite cranky about it. The point is, it can cover many genres, and today's interview is about a light, romantic tale that takes place in the 15th Century: Susan Appleyard's "For the Crown."
Susan, tell us about you…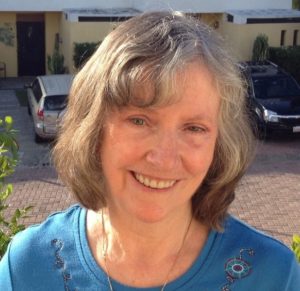 I was born in England, which is where I learned to love English history, and now live in Canada in the summer with my three children and six grandchildren. In winter my husband and I flee the cold for Mexico, sun, sea and margaritas on the beach. I divide my time between writing and my new hobby, oil painting but writing will always be my first love
What's For the Crown about?
A new departure for me from historical fiction, my latest book 'For the Crown' is a historical romance with a dash of humour. The hero is Robbie, Bastard of Ovedale, a warden on the border with Scotland. On one of his forays chasing cattle thieves, he captures a Scots girl, Mary Margaret Douglas and hopes to exchange her for a nice ransom. This plan is disrupted when her family refuses to take her back because she has been 'ruined' by the English. Robbie doesn't know what to do with her. He is forced to take her with him when he goes to war. There is a great deal of dislike and distrust between English and Scots at this time. Robbie has to keep her safe and finds himself falling in love with her.
What is it about this time period that has you so fascinated?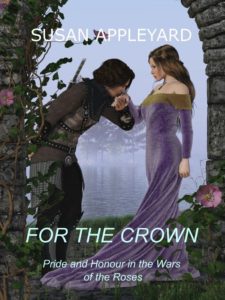 The story is set in the fifteenth century, in the period known as the Wars of the Roses, a very turbulent time in English history as two rival claimants fought for the crown. I have written other books about this period and never tire of reading about it, which proves you can enjoy a story even when you know the ending. The wars provide an exciting background to the development of a mismatched love affair.
History isn't all battles and daring-do. This is a fun idea. What's your favorite scene in the book?
My favourite scene in the book – always a difficult choice for an author is the one where Mary drops the bombshell on Robbie that he loves her. (Yes, you read that right.) Robbie is pole-axed. The poor fellow had no idea and thinks the very idea is absurd because they are so wrong for each other. He is a little dense when it comes to matters of the heart but eventually sees that she is right.
Where can people learn more about your book and your work?
My blog: www.susanappleyardwrite.wordpress.com
My Facebook page: https://www.facebook.com/susan.appleyard.9
My Twitter account: https://twitter.com/Mexisue1
The sequel to Acre's Bastard is Coming January 21, 2019!
Subscribe to my newsletter and get a chance to win a signed paperback copy of my upcoming novel, Acre's Orphans.  Each month you'll receive links to interviews with great authors, news about upcoming events and previews of whatever I'm working on, including Acre's Orphans. Look at the bottom left of the page for the sign-up sheet. No spam, just once a month updates and a chance to learn about great new Historical Fiction of all types from around the world.