Hi!

I am in Gdańsk, Poland and reading book two in your Jonny Lycan series!
There's something to read first thing in the morning. Today I woke up to a lovely letter from a reader. This happens occasionally and is always a blast when it does. When it comes from an unexpected corner of the world, it's even more special.
I like Poland. I was there on business once and can speak my three travel words of Polish. Whenever I go to a foreign country, I learn three words: Hello. Thank you. Beer. (I don't know the spelling, but in Polish, that's Dzendobri, Djakuya, and Pivo)
I once tried adding up all the places my work has been read: The US, Canada, UK, Ireland, Belgium, Netherlands, France, Ukraine, Israel, Dubai, New Zealand, Australia, South Africa, Singapore, China and Jamaica that I know of. There might be more. I hope so.
The reader even sent photographic evidence: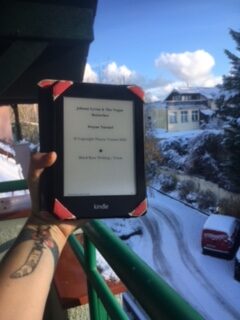 We writers have huge egos but also need validation for more than our parking. If you enjoy a book, please leave a review. But consider dropping a line by social media (Twitter/X is @Wturmel) or email. (There's a place on the website.) It can make someone's day.
Thanks, Lex, and I hope you enjoy Johnny's future adventures.
Johnny Lycan & the Last Witchfinder is coming May 2, 2024, from Black Rose Writing. It's not too late to get started on the series now!