And so it begins…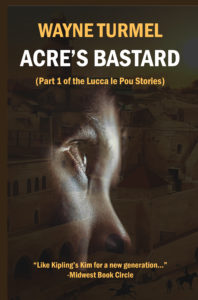 It's January 17, 2016 so my newest historical fiction novel, Acre's Bastard, is now available worldwide in paperback and ebook, wherever you buy such things.
I'm very grateful for the help I've received in advance of the launch from Naperville Writers Group, my trusted beta readers, and those who have read advance copies and actually liked the darned thing.
This book isn't an easy sell, so any help I can get is appreciated. If you'd like to help, I can think of a couple of things:
Tell your friends. Tweetfacelinkblog to your heart's content.
Leave a review, even a luke-warm one, on your favorite book site. The number of reviews counts almost as much as the rating in this crazy online world run by our robot overlords. Amazon, Goodreads, Facebook pages… you know the drill
Give me feedback. This is the first of at least 2 "Lucca Le Pou" stories to come. I had a boss once who told me, "we always reserve the right to get smarter."
Come on out to an event. So far, I've got two events scheduled. The official book launch is February 11th, 1 PM at the Museums at Lisle Station. I will also be doing a presentation in early march at Barnes and Noble in Naperville, exact date TBD. Come on out, bring some friends and have some fun.
I am very excited about the launch of this story, and hope it receives the same warm reception that Count of the Sahara got. Oh, and sells a few copies.
Thank you all. Here goes…..