Sometimes, historical fiction is about people living inside a specific historical event.  Other times, the period is primarily a backdrop to personal stories that just happen to occur then. Such is the case with Carmen Scott's "Anne". Rather than the heroine being swept up in history, the times serve as the backdrop for this intimate story of one woman making her way in 18th Century London.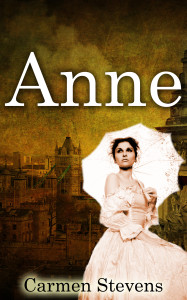 Carmen Gross, pen name Carmen Stevens, was born in Fargo, ND, March 1992. She currently resides in Detroit Lakes, MN, where she is a recent college graduate and works part-time. Carmen published her novel "Anne" in July 2013-an exciting, richly-written historical work about a young English girl who makes many bad choices throughout her life and then struggles to find redemption.
In a nutshell, what's Anne's story?
'Anne' takes place in eighteenth-century England. The plot revolves around a haughty, homeless, orphaned girl and her struggle to achieve a life that is much better than her present one. Anne is hardened by a sense of self-preservation and very strong-willed, and she is willing to do anything to fulfill her dreams.
You're a nice mid-westerner. What is it about that time period that intrigued you?
I really like the fashion of this time period, though maybe not the corsets. But I think the dresses that the well-off women wore were unique and quite lovely. I dislike the class structure, however. But I've always been very interested in old England and the way that this country used to be, especially within its large cities like London. I love the history of the country. I've never physically visited England, but I've researched it so extensively that I feel like I have been there. When I decided that I wanted to write a novel, the setting of old England came to my mind right away because I have such an interest in the country, and hope to be able to visit there someday.
That's true for a lot of us. Writing is a way of traveling places we've always wanted to go. Without giving away spoilers, what are a couple of scenes you particularly enjoy?
It think it's the small, poignant scenes rather than sweeping historical events. The first scene involves Anne visiting a person whom she once loved, but now hates,in an awful place. The young man whom Anne visits bitterly confronts her because of what she did to him. Anne remains calm and cold throughout the confrontation, displaying no remorse, for what she did to the young man she did to achieve her dreams.
The other touching scene is actually one of the last scenes of the novel. Anne has a long chat with another young man, but her demeanor and composure are completely different than the other scene. Also, the young man in this scene listens to Anne carefully with an attitude that is also different than the other man's. Within this scene, the themes and morals of the overall story are vivdly described.
i