The Scottish have a long history of  ghost stories. Possibly because their national folk lore is full of clan warfare, murder, revenge, and way too much whiskey (how they managed to get the Irish to take the heat and get the reputation for all the drinking is beyond me. It's brilliant PR) and all the good stuff that creates restless spirits in the first place. Cathy Donnelly has written a nifty story that blends historical fiction with the supernatural, in There is a Place.
So give. What's the Cathy Donnelly story?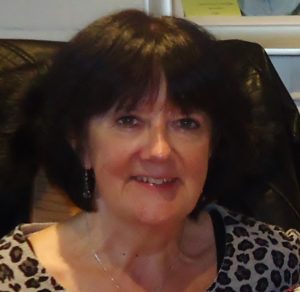 I've been an avid reader since I was a child when my grandfather gave me his old novels. He was a fan of Nevil Shute and after I devoured A Town Like Alice, On the Beach and Pied Piper, I wanted to read everything I could get my hands on. I always thought that one day I would write a book but it wasn't until later in my life I pursued my dream. In a way I'm glad I waited because I was able to entwine many of my interests – history, the Knights Templar, Druids, Alexander the Great and the supernatural – into the mix of my storytelling.
Writing my first novel Distant Whispers, a historical reincarnation story, was a tremendous experience, and an interesting learning curve for me. I love the research part of writing and realised there is such a thing as too much research. If I had included everything I wanted to, I may have ended up with something about the size of War and Peace and exhausted my readers before they worked out what the story was about. Fortunately I curbed my urge to include everything and hopefully ended up with an enjoyable read. I was touched by feedback from my readers that they would like a sequel so that will be coming down the track.
And what's the story behind the new book? What's it about?
There is a Place is a Scottish historical novel. I lived in Scotland most of my life and have always been fascinated by its vast and interesting history, so I loved researching and writing this book.  It is the story of Michael whose brother dies in his arms at the Battle of Flodden in 1513. He will spend the rest of his life seeking forgiveness for the revenge he took.  That day also triggers in him the ability to see the dead.
We follow Michael as he studies in Rome, makes a pilgrimage on the Camino de Santiago, and enters the priory on the island of Inchmahome in Scotland as an ordained priest. He becomes involved in the lives of the Royal Family, Lord John Erskine and the Knights Templar. Michael develops other gifts, including healing and travelling in time to the past. There is a time slip in the latter part of the book to the present day at the same locations, and includes scenes with my sister and brother-in-law who are fortunate to live beside Inchmahome.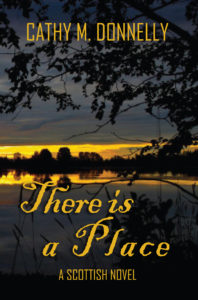 What is it about that time period or character that intrigued you and motivated you to write about it?
Although you could pick any century in Scottish history and you would find a story to write about, I am particularly interested in the 16th century. It had many a bloody battle, including Flodden where 10,000 Scots lost their lives, intrigues with King Henry VIII, the death of two Kings of Scotland, the birth of Mary Queen of Scots and the reformation. A feast of tales.
What's your favorite scene (and don't say you can't pick. Authors always say that, and it's not true. We do love some of our children more than others.)
My favourite scene takes place at Rosslyn Chapel and involves Michael, the Knights Templar and some ghosts.
Where can people find you and your books?
I love to hear from readers and can be contacted via:
Website:  http://www.cathymdonnelly.com
Amazon Author Page:  https://www.amazon.com/Cathy-M.-Donnelly/e/B01A0BXFA0
Goodreads:  https://www.goodreads.com/author/show/13774671.Cathy_M_Donnelly
Facebook:   https://www.facebook.com/Cathy-M-Donnelly-857935897561457/
For Scottish readers, or visitors to Scotland, There is a Place is also available from Alloa Tower, where many of the scenes are set. This medieval tower was built by the Erskine family in 1368 and is now under the care of the National Trust for Scotland.
Full disclosure, the picture at the top of the page is the tartan for Clan Forbes, my mother's people. She always wanted me to wear a kilt–and no. Only one of many ways I disappointed that poor woman.