I first became aware of Karen Bedore's work earlier this year, when her novel "The Bard" beat "Acre's Bastard" to make the short list of the Illinois Library Association's annual "Soon to be Famous Author" competition. When we finally met at a library author event, I swallowed my petty spite and hateful envy enough to chat with her, and learn she has a new book out. That would be, "Another Lifetime."
Turns out that when she's not writing, she teaches middle-school music. You'll see she has her denial firmly in hand…
So let's learn about Karen Bedore…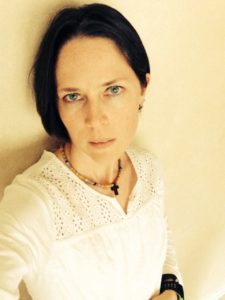 On a typical day, one could find Karen in the throngs of adolescent wonderment, trying to create harmonious music-making to these next-generation superstars. From the first squeaks of "Hot Cross Buns" to the lavish lyrical sounds of "Danny Boy," there is much magic that occurs within the four walls of the band room.
After being fueled by many cups of coffee to sustain the never-ending insanity of middle school energy, she arrives home to the role of wife (to a wonderful husband) and mother (of an amazing little boy), cherishing every moment (okay, perhaps not the whining…).
However…
Secretly (well, not so secret any more), she is an undercover author, who laces up her trainers for a run to build endurance–not just for running–but to escape from this world to an alternate one, where history and romance meet, fueled by suspense–and of course–wonderful music.
Well, if the whole "secret identify" thing works for you and helps you deal with the most evil of Nature's creations- tweens- God love ya. What's your latest book about?
Twenty-two-year-old Aria Carucci was getting nowhere with her research of the obscure fifteenth-century artist Enzo Benenati.  A recent discovery of one of his works was a monumental breakthrough, but the accompanying sketch of a woman who could be her twin left her completely stunned. She vows to discover who this woman was, but nothing can prepare her for the path her research takes—back in time to 1459 Florence.  Frightened but thrilled, she must adapt to a time not her own.   Thrown together by chance, Aria and Enzo fall in love, only to be at the mercy of the hands of fate.      
You're the second author in a row here who's tackled the Renaissance as their theme. What is it about that time period that's so interesting to you? 
I have always been fascinated by the early Renaissance period, ever since I can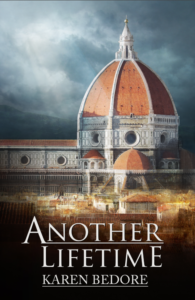 remember. The humanism movement—especially in Italy—has transformed the visual and musical art world, and I wouldn't be where I am today without that ingenuity. I have family roots in Italy as well, and am in love with the language and culture.  If I were a character, I would be Aria. Many people who have read the book have noticed that I pretty much inserted myself into the book.
The arrogance of some authors (completely disregards his own work where he is Byron, Willie, Lucca, and probably the snarky old guy in most of the short stories). Without giving away spoilers, what's your favorite scene in the book?
Ooh, this is hard! I would have to say the first kiss. –dreamy sigh-
I think those middle-schoolers are rubbing off on you, but what the heck. Where can we learn more about your work (including the one that beat mine out… not that I'm bitter or anything)?
My website: http://karenbedore.wordpress.com
Twitter: @Lady_Alcinia
Facebook: https://www.facebook.com/thebardtrilogy/
Amazon: http://tinyurl.com/ybmhdld6
Subscribe to my monthly newsletter and get a chance to win a signed paperback copy of Acre's Bastard.  Each month you'll receive links to interviews with great authors, news about upcoming events and previews of my work in progress, Acre's Orphans. Look in the bottom left of the page for the sign-up sheet. No spam, just once a month updates and a chance to learn about great new Historical Fiction from around the world. Everyone who signs up before January 1 enters to win!