Other than mummies, (and that the toughest job there had to be a court reporter. Can you imagine trying to take notes in hieroglyphs?) what can you tell me about Ancient Egypt? The period is mysterious and odd to us, yet it is fascinating and dramatic. Midwest writer J Lynn Else takes a look at that era–and its most famous resident, King Tutankhamun in two books.
The latest, The Forgotten: Heir of the Heretic is out now.
So what's a nice girl from Minnesota doing writing about Egypt and the wives of Pharaohs? What's your story?
As all great things should begin, my love of history started with a book.  My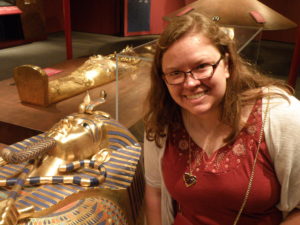 uncle, who is an expert in maritime history, gifted me the book ""The Discovery of the Titanic: Exploring the Greatest of All Lost Ships" (which I still own).  The Titanic was all over the news at that time (late 1980s), and I began to take an interest in the time period.  Eventually, my love of history went further and further back in time.  Conversely, I was also a budding Star Trek: TNG nerd, so I wrote a lot of stories in which I could explore space, meet aliens, be a part of epic adventures.  It was so much more fun than being a tween with acne and braces.  I continued to write through high school and college (I even completed a script for X-File).  I've always been a huge lover of books.  Currently, I actively review for the Historical Novel Society and NetGalley.  I'm working on a third book now, which involves the legend of Avalon.  Besides reading and writing (and reading some more), I also keep busy with my husband, 2 kids (an 8th and a 5th grader), and 1 guinea pig.
This is your second book about that time period. What's it about?
It is a time of change for ancient Egypt.  Pharaoh Akhenaten (who in modern times is probably best remembered as King Tut's father) has declared that there is only one god to be worshipped throughout Egypt. He has also made a promise to his oldest daughter, Merytaten, that one day she will be his heir and the future pharaoh.  However, as pressures build up against this new religion, it falls upon Akhenaten's wife, Nefertiti, and Merytaten to help their citizens and prevent insurrection.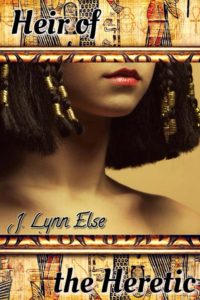 In my novel, THE FORGOTTEN: HEIR OF THE HERETIC, Merytaten's voice is used to vividly recount her dynamic life during some of ancient Egypt's most turbulent years.  My book will appeal to fans of Michelle Moran, Jo Graham, and Pauline Gedge who also bring to the forefront women from antiquity who defied the constraints placed upon them for a greater good.  This is the second novel I have written.  Besides this, I have self-published THE FORGOTTEN: ATEN'S LAST QUEEN (ISBN-13: 9781483505343), which was awarded an Indie Editor's Choice in 2016 by the Historical Novel Society
Why Egypt? What's the fascination for you?
I really like reading about historical women who carved out new trails and touched their dreams despite the naysayers; those are stories I like to read and want to offer to my daughter when she gets older.  Ancient history has always been particularly fascinating to me, especially ancient Egypt. They are a society lasted for over 3000 years.  They never developed technology like phones or cars or computers, yet they thrived.  Modern society hasn't even scratched that type of longevity.
After going to an exhibit at the Minnesota Science Museum entitled "King Tut and the Golden Age of the Pharaohs," I discovered that while much is known about King Tut, very little is left to us about his wife.  I wanted to know more about her.  The pictures left to us show that Tut and Ankhesenamun loved and supported each other.  There is very little art in ancient Egypt that shows this type of relationship publicly.  So my interest was piqued to research this woman who seemed "forgotten" by time (get it, my title? Ha, ha!).  Thus came book 1, THE FORGOTTEN: ATEN'S LAST QUEEN.  My latest book, THE FORGOTTEN: HEIR OF THE HERETIC is about Ankhesenamun's oldest sister, Merytaten, who was definitely in the thick of things as Akhenaten established a whole new religion in a country founded in polytheism.
Without giving everything away, what's your favorite scene?
First off, I think it's well known that King Tut dies early in life.  No spoiler there.  As his funeral procession assembles itself for the walk to the tomb, Ankhesenamun is about to see Tutankhamun's golden sarcophagus for the first time.  She's feeling guilty about many things in their lives.  She's scared and confused and is nervous as the sarcophagus is brought out from the royal barge.  But then she looks down at his gold-clad face.  Peace overcomes her.  She refocuses herself and realizes none of the mistakes of the past matter at that moment.  She promises to be there for her late husband in the last few moments she has to walk beside him.  It's a moment when Ankhesenamun forgives herself and hopes that Tutankhamun will find peace of his own in the heavenly paradise.  There are things she has to let go of, but she can still be there for him as his soul takes its final journey.  It's definitely a turning point for her character development.
Where can we learn more about you and your books?