A while back I really enjoyed a sort-of Urban Fantasy book called Markus, by an author I didn't know, but share a publisher with. (Peace be upon Black Rose Writing.) I reached out to David Odle, and while nothing happened initially, he has a new book out and we arranged this interview. (Pro hint… if you want to get a response from an author, catch them in a pre-launch panic.)
This was a chance to talk to David about his newest effort, more of a horror/thriller thing called Kate's Lake. Enjoy.
David, tell us about you.
Tell you about me? Whenever I'm asked this question, I always feel like there's shockingly little to tell. Perhaps that's why I write stories; to create fantastical characters who provide a vicarious escape into other worlds and interesting circumstances. But if it's just me, my main love beyond family and friends (and craft beer), is simply a good story. Whether it's a book, an article, a movie, or a TV show, a story well-told is what I find most satisfying.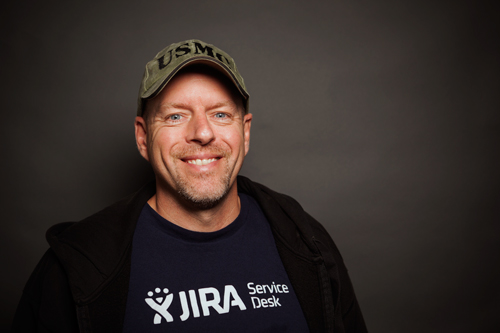 I really enjoyed Markus, and was a bit surprised you shifted gears a bit. Tell me about Kate's Lake.
I'm super-stoked about newest novel, Kate's Lake, (released at the end of June)! I loved writing it and it may very well be the story that contains the most of my own personal characterization due to the military background of the character. The story is about a former Marine named Mick Smith, a recovering alcoholic and Iraqi combat veteran, who discovers what he believes may be the Fountain of Youth. While attending the funeral of an old friend, Mick's dark past catches up with him as strange events spark a cascade of horrible circumstances that ultimately lead Mick to Kate's Lake, where he discovers the horrific truth about its healing water.
You shifted away from Urban Fantasy a bit. I thought you'd be setting up a sequel to Markus, since the book ended as it did. What about this story attracted you?
Different than my debut novel, Markus, which is an Urban Fantasy, Kate's Lake is a horror novel written in first person which allowed me to create Mick in my own image. The story is based loosely on one of my oldest friendships from the Marine Corps and was sparked one morning when I thought, what if I suddenly received a phone call that JT had died. Would I go to his funeral? And what if I decided to go and then learned that something strange was happening there. What if he wasn't really dead? And the story began to unfold from there. I actually wrote the opening chapter several years before adding the story after it.
The "what if" game has sent a lot of us in weird directions. It's where Johnny Lycan came from after 3 historical novels. Who do you read?
My literary hero is Stephen King. I became hooked on books after reading Cujo when I was thirteen and from then on, I couldn't get enough of Stephen King. I wanted to be just like him! But since then, I've grown more diverse and discovered a huge world of wonderful writers. Over the past year, I've really enjoyed Paul Tremblay, Alma Katsu, Brian Keene, Delia Owens, Pierce Brown, and Erik Larson (I love reading history).
Besides ordering your books directly from Black Rose, where can people find your work and more about you?
Yes, I'm still learning to navigate this cyber-world, but I'm trying to establish multiple ways people can connect with me. Folks can find me at:
Facebook – David Odle (@DavidOdleBooks)
Twitter – (@d.leroy1970)
Instagram – David Odle (@Odle.author)
Linkedin – David Odle
Not to crash the party, but Johnny Lycan & the Anubis Disk is coming in November. Order now by clicking here and going to Black Rose Writing. Use the promo code: PREORDER2020 to receive a 15% discount. Amazon, Barnes and Noble, Kindle and Audible coming in November. And look to the side of the page to sign up for my newsletter.