Most of us have our favorite historical periods. If pushed, we'd even say we'd like to have been around then. (News flash, much as the 17th century might have been fun for sword fighting and decolletage, I'm partial to cheap books, hot water, and indoor plumbing. I'm good here, thanks….) and some even say they were born in the wrong era (The Duchess says in all seriousness she wanted to be around in 1920s New York- and thinks she was). That brings us to Californian Lauren Sobka and her chronic Francophilia, as well as her book, Brokenly Live On.
Okay, what's the Lauren Sobka story?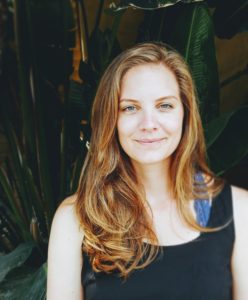 Just a girl born in the wrong era. My name is Lauren, I'm an artist and writer living in California. To sum myself up I propose this:
A dirt lane leading down a path beside a crumbling, ancient wall where wildflowers have cast their roots in like flags pitched in ownership; they are legion, reaching, and riotous. Looking ahead, the rolling fog obscures much of the landscape, but in the distance you can hear the rushing crash of waves reaching up the bluffs; all around the wind gently pushes through the trees and sways the heather bushes reaching out across the rolling hills.
There are a few more nuanced details, but that's about what rolls around in my brain all day, and knowing what someone thinks is the best way to understand them, is it not?
Actually, that's a terrifying thought, but then I'm paranoid. What's the book about?
It takes place in France, in 1875. After the fall of the Second Empire, on the cusp of the Belle Époque, Clara Devereaux finds herself motherless, left with a recluse for a father with whom she shares the halls of a slowly decaying estate – Château Rivière. At twenty-two she has not been able to discover the reasons for her mother's death nor her father's phantasmal existence, and so, unguided and temperamental, Clara finds no other purpose but to spend her days carousing in Paris with childhood friend Remi.
As the mystery of her parents begins to unravel – thanks to the help of her dear friend and neighbor Christophe – deep prejudices, betrayals, and a vindictiveness distilled through generations are revealed; all of which falls onto Clara's shoulders. While facing her family's past, a new valet in her father's employ catches her interest and causes a jealousy to spark that sets in motion events she never could have imagined. With what little pieces of a life she can claim falling away around her, she must find the resolve to endure a fate she cannot escape, the loss of all she holds dear, and the strength to face the retribution of her parent's mistakes.
So why "la Belle Epoque" and France? What's the fascination?
When I was thirteen I was told I needed to choose a language to study in school, which would be the one I would learn for the next five years. Out of my three choices I settled upon French, and since that time I've been fascinated by the culture and history, driven on by beauty in the language.
Over the course of seventeen years I've picked up more than a few novels by Flaubert and Dumas Fils and found the times they were set in to be fascinating. One object in particular, however, was my starting point – a painting by artist Toulouse Lautrec. His work spun my imagination and soon a short story turned into twenty thousand words and before long I knew I had to do things the right way; so I researched. The more I learned the more I knew that his era, the end of the 19th century France, that of the Impressionists, of Art Nouveau, of no more Napoleons, of the fading aristocrats and the continued rise of the bourgeoisie – and so much more – was the era I wanted to write about.
What's your favorite scene in the book?
Such a horribly difficult choice, but if I had to, I'd say the scene where Clara and Alain encounter one of her old friends from her past life of debauchery in Paris. I really enjoyed writing the banter between a drunk bon vivant laying down insults and how Alain handled it.
Speaking of debauchery, how can people learn more about you 😉  ?
website: www.brokenlyliveon.com
amazon (the book): https://www.amazon.com/Brokenly-Live-Lauren-Sobka-ebook/dp/B07481XB2Z/ref=sr_1_1?ie=UTF8&qid=1501094619&sr=8-1&keywords=brokenly+live+on
amazon author page: https://www.amazon.com/Lauren-Sobka/e/B07482RTK7/ref=ntt_dp_epwbk_0
Goodreads (the book): https://www.goodreads.com/book/show/35534325-brokenly-live-on
Goodreads (author page): https://www.goodreads.com/author/show/16986987.Lauren_Sobka
Twitter: @brokenlyliveon
Instagram: @brokenlyliveon