I have mixed feelings about New York City, but there's no argument it's changed the world like few places before or since. Harald Johnson has tackled the history of the island of Manhattan in a series of novellas. The first Manhattan Novella: 1609, is out now.
Sometimes I feel like such an underachiever when I do these interviews. What's the Harald Johnson story?
I invent a new career for myself every 7-10 years, like a memory-challenged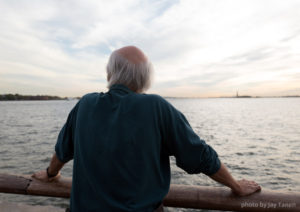 cicada. Over the past 40 years, I've been a magazine publisher, Hollywood art director, ad agency creative director, photographer/filmmaker, marketing consultant, and of course, a writer across all those trips around the sun. And recently, I've turned my focus back to something I've kept hidden for a long time: fiction writing. Oh, and did I mention I like to swim? A lot. Not only did I win that around-Manhattan swimming race mentioned here, but I continue to swim regularly as much as I can. So water and swimming are recurring themes in my life, and in my writing.
What's the story behind Manhattan: 1609? And don't say it's about Manhattan in 1609 because that'll just tick me off…..
Here's the official blurb: It's 1609, and explorer Henry Hudson doesn't know what to expect when he sails across the Atlantic in search of the elusive passage to the Indies. Neither do the native Lenape people on the island of Mannahatta (current Manhattan, NYC) when they see a "great floating bird" approach. Are these Spirits or men? A curious and independent-minded Dancing Fish is given the mission of finding out. Initially enthralled by these strangers, he slowly discovers their dark side and must make a difficult choice. Ambition, greed, love, and hate bind the visitors and the "savages" together in a chain of events that will change North America forever.
This is historical fiction "based on true events" (as they like to say in Hollywood). And as I say in my "Notes about the History" pages at the end, I follow author Ken Follett's guiding principle: that the events depicted either did happen, or they could have happened. And I back that up with four-and-one-half pages of historical resources and acknowledgments at the end. I researched the heck out of this time period and location! And amazingly to me, I am the first person to write historical fiction about the birth of NYC that covers this early period (1609+). Really.
New York City continues to fascinate, but what is it about the story that resonated with you?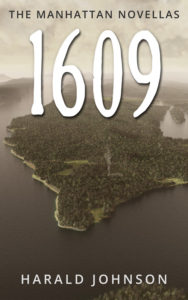 It turns out that I have a pretty unique connection to this NYC setting and a reason to write about its history. In the early 1950s, I immigrated to the U.S. as a child, tracing the exact same route into New York Harbor that Henry Hudson followed on his 1609 voyage. Thirty years later, I swam completely around Manhattan (it was a race), and an idea started to form. Treading water at the island's tip, waiting for the ebbing tide to change, I wondered: What was this place like before? I mean, really like? Before the skyscrapers? Before the millions of people? What was it like when Hudson first sailed right by the spot where I now treaded water?
I shelved the idea in the back of my mind, but over the next 30 years, I would visit New York City many times. And on each trip, I'd stop and stare at the waters encircling Manhattan. And I'd pull out of my head that original question: what was this place like before? Then I nuanced it with the key question that environmental historian William Cronon likes to ask: "How did things get to be this way?" Imagining the answer to that question motivated me to write the story of 1609 and the next books coming in this series.
Without giving away the story, what's your favorite scene in the book?
For me—and readers have mentioned the same—it might be the last scene in 1609. I'm not going to give it away, but after reading it you understand what's at stake and can glimpse what lies ahead. ( Without having read the book, my guess: The founding of the first Duane Reade, cause they're everywhere!) And because this is the first—and shortest—ebook of The Manhattan Novellas series, you have a strong sense that things are only going to get more complicated and serious as the story continues to unfold in the next books. And they do.
Where can people learn more?
The
1609
 ebook is exclusively on Amazon (worldwide) at: https://www.amazon.com/dp/B01N76X3BH/

(U.S. store link). There's additional information about me and more backg
round on this book (and the book series) on my website:
http://haraldjohnson.com
. And if you sign up for my email alerts on the site, you'll get a nifty infographic that compares the Manhattan of 1609 with that of 2016.