About  a year ago, I asked, "why does it seem everyone's working on a novel about ancient Rome?" Then this year has gone by and I think the question should be more like, "why isn't EVERYONE writing about it?"  The notion of history holding perhaps some answers for why our own nations act like they do is an old one, as is asking, "what if?"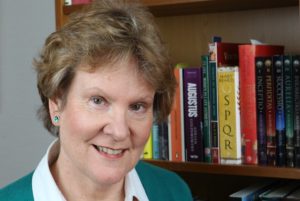 That's where alternative history comes into play, which eventually leads us to Alison Morton's "Roma Nova" series, and her latest installment, "Insurrectio." Not only does it ask "what if the Empire survived until today?" It also plays with roles of gender and class.
A 'Roman nut' since age 11, Alison Morton continues to be fascinated by that complex, power and value driven civilization. Armed with a masters' in history, six years' military service and the love of a good thriller, she explores via her award winning Roma Nova adventure thrillers the 'what if' idea of a modern Roman society run by strong women.
The sixth book, RETALIO, will be published on 27 April. In the meantime, Alison lives in France with her husband, tends her Roman herb garden and drinks wine, which is a good gig if you can get it.
Okay, Lady. In a nutshell, what's the book about?
INSURRECTIO is about a rising nationalist movement led by a charming demagogue who wishes to overturn an established political system at a weak moment in a country's history. (Any resemblance to persons living or dead, is completely coincidental and fully denied – I started drafting this first).
But it also charts the lifelong struggle between Aurelia, our upright and complex heroine, and Caius, an amoral charmer determined to destroy her and all she stands for. She's an ex-Praetorian officer and now imperial councillor, utterly loyal to the imperatrix, the ruler of Roma Nova; he's a wastrel, just released from prison where she put him nearly thirteen years before.
So it's about sex, power and revenge in a small piece of the Roman Empire that's survived into the 20th century. Until now.
What is it about that time period or character that intrigued you and motivated you to write about it?
I've been a 'Roman nut' since I stepped onto my first mosaic pavement at age eleven. As I listened to my father (senior Roman nut) explain about senators and soldiers, farmers and traders, power and occupation, I asked what the mummies and children did. Being the daughter of a feminist mother I was dismayed about the reply that mummies stayed indoors looking after the children and had no public life, vote or independence.
Maybe it was the hot sun in that Spanish sky, budding feminism or merely a smartass kid asking a smartass question, but I asked him what it would be like if women ran Roman life instead of the men. He shot back, "What do you think it would have been like?"
I held that thought throughout most of my life until I sat down to write my first Roma Nova thriller. I brought the story up to the modern age as although women exerted influence, they weren't able to hold power in antiquity in the way I wanted them to in my stories, so I plunged into alternat(iv)e history. We're still fascinated by Rome; just suppose a Roman society had survived with forums, temples, a Senate, a strong military but with an innate state service ethic and well-developed personal responsibility and it was run by women…
That's a lot of ifs… Without giving away spoilers, what's your favo(u)rite scene or event in the book?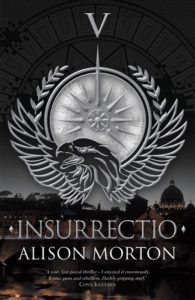 I'd like to choose two types, if I may. Firstly, all the confrontations between Aurelia and Caius. They spark personality and supressed sexual tension, but most of all, the struggle for power. Very Roman! He winds her up, but can't dent her inner core; she refuses to bend her principles and can't understand why he has no conscience.
Secondly, Aurelia will do anything to protect her frail and, to be honest, light-minded daughter; they struggle to understand each other although there is no doubt about their mutual love. Writing their scenes together was an emotional experience as was Aurelia's frustration with, and deep passion for, the elusive Miklós.
Where can people find you and your book (links to Amazon page, Goodreads, Twitter, Blog whatever)?
Social media links
Connect with Alison on her Roma Nova site: http://alison-morton.com
Facebook author page: https://www.facebook.com/AlisonMortonAuthor
Twitter: https://twitter.com/alison_morton @alison-morton
Goodreads:  https://www.goodreads.com/author/show/5783095.Alison_Morton
Amazon author page: http://Author.to/AlisonMortonAmazon
Buying link for INSURRECTIO (multiple retailers/formats):
http://alison-morton.com/books-2/insurrectio/where-to-buy-insurrectio/
INSURRECTIO book trailer: https://youtu.be/eXGslRLjv6g