The "Troubles" in Ireland make for great drama. As someone whose maternal relatives are "Scots-Irish" (a lovely way of saying Orange as hell) I have mixed feelings about the whole thing, but it's not my fight, and a good story is a good story. That's where L D Beyer comes in. He doesn't always write Historical Fiction, but in this case it's a good one: The Devil's Due.
Okay, so what's your story?
I like to think of myself as a reformed corporate drone who, after twenty-five years of missed family events, one day rose up and reclaimed my soul. Before I escaped, my career primarily involved relocating my family every few years—so much so that my kids began to secretly suspect that we were in the Witness Protection Program. I have yet to set the record straight.
I'm the author of three novels, two of which are part of the Matthew Richter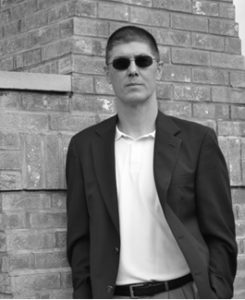 Thriller Series. My first book, In Sheep's Clothing, was published in 2015 and reached the #1 spot on three separate Amazon bestseller lists.
I'm an avid reader and, although I primarily reads thrillers, my reading list is somewhat eclectic. You're more likely to find me with my nose in a good book than watching TV.
I live in Michigan with my wife and three children. In addition to writing and reading, I enjoys cooking, hiking, biking, working out, and the occasional glass of wine.
So what's The Devil's Due about?
A country at war. A man on the run. A woman left behind. Can an innocent man ever go home?
Guilty of a crime he didn't commit, IRA soldier Frank Kelleher flees through the streets of war-torn Ireland with both the British and the Irish Republican Army trying to put a bullet in his head. He makes his way to America under an assumed name and with a forged passport, as the war in Ireland rages on. Settling in a new land, he finds he can't let go of his past. Haunted by the fiancée he was forced to leave behind, by the deaths of three friends at his own hand, and by the country he was forced to abandon, Frank struggles to make his way in 1920s New York.
As much as he can't let go of Ireland, he finds that Ireland can't let go of him—and his past has a way of finding him, thousands of miles and an ocean away. He dreams of going home, but knows that it could get him killed. Then an anonymous letter brings news about his fiancée Kathleen and he realizes that he no longer has a choice. A cease-fire is declared and Frank sails home with dreams of finding Kathleen, putting his past behind him, and starting a new life.
When he arrives, he learns that the Ireland he was hoping to find—a united people finally free—was only a dream. With British soldiers withdrawing, long-standing feuds resurface, and Ireland is pushed to the brink of civil war. As tensions mount, he also learns that his sins will not be easily forgiven, and that he and Kathleen will never be safe until he clears his name.
If the looming war doesn't kill him, trying to right the wrongs of his past just might.
So what is it about this time period that grabs you?
The story is based loosely on family legend for my grandfather who served in the Irish Republican Army during the War for independence. Growing up, I heard the stories of how he had been forced to flee Ireland below a false passport because both the British and his own comrades in the IRA had put bounties on his head. Like most legends, I'm sure this one grew over time and with each retelling, especially when my Irish uncles were drinking!  I spent some time in Limerick and Dublin, meeting with researchers and historians and I was happy to learn that while my grandfather had indeed served in the IRA, the circumstances surrounding his decision to emigrate after the war were not quite as dramatic as the legend would have you believe.
Exaggerated or not, though, I always thought the legend made for a great story line!
Without giving away spoilers, what's your favorite scene or event in the book?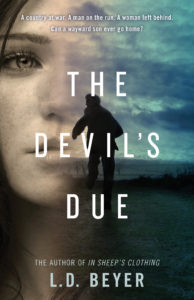 I really like the first three scenes because they set the stage for the drama that unfolds.
Unjustly accused of being a traitor by his own friends and facing an almost certain death, Frank Kelleher manages to escape before the executioner's bullet finds him. When he learns that the enemy is hunting him too, he sees his options quickly slipping away. Suddenly a fugitive, he faces a brutal choice: stay and die or leave everything that he knows and treasures behind. But can he give up his name, his country, his dreams and the woman he loves? And what awaits him if he does?
Where can people find you and your book ?
Readers can find The Devil's Due and my other books on Amazon and Goodreads and I do share my views of the world on the occasional Facebook, Twitter or blog post. You can find out more by clicking the links below, they'll take you directly to his pages:
The Devils Due on Amazon: 
Website: http://ldbeyer.com/