One of the exciting things about moving to a new city is the chance to meet a whole new crop of writers and artists. Las Vegas has a thriving writing scene, as you'll learn over the next few weeks as I interview new friends and people I've crossed trails with.
One of the first writers I met here is Joe Van Rhyn. He's written a number of historical novels including his newest, Born Yesterday. I'm not happier realizing that the 1960s were nearly 60 years ago than you are, but they qualify as history. I have managed to come to grips with that.
Joe, tell us about you.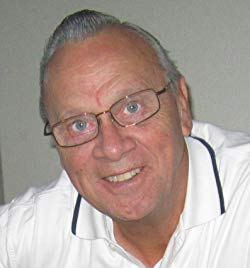 I'm a "late bloomer." I didn't start writing seriously until I retired. Over the years, I toyed with the idea of writing a book, retirement just freed up the time. I had written things like press releases and news articles. My first published work came as a contributor to another author's book on the town we grew up in. My first solo project was a twenty-page history of my wife's family's one-hundred-year ownership of a tavern in Berlin, Wisconsin. I considered myself a good story teller, but wondered if I could hold it together long enough to finish a full-length novel? I'm proud to say, I not only finished the first book but have completed two more, since.
So much of my writing is drawn from the things I've experienced in my life. I grew up in a small resort town in Wisconsin. My family owned a Supper Club. We aged and cut our own steaks. I started tending bar when I was eighteen. I loved it. It gave me a master's degree of knowledge in human behavior, both good and bad. Every night I'd get a new cast of characters to study. (Editors note: the Wisconsin Supper Club is its own little world, and someone needs to write a novel about it. Not me, you understand, but someone.)
I did a lot of acting in school and summer theater. Writing and acting come from the same part of the brain. Scenes are built on action and dialogue. In both, you have to be able to climb into your characters' skin to fully expose their strengths and weaknesses.
In a nutshell, what's Born Yesterday about?
My first book, "Born Yesterday," is set in 1964. It's how life and relationships change when a stranger is found unconscious in the park of a small resort town, and how fate brings two people together.
What is it about that time period that intrigued you?
When I began writing it, the thing I knew for sure, Pine Lake, the fictitious town, based on the one I grew up in, had to play a large role. I wanted to capture the flavor and values of the community as I saw then. The story is made up. The characters are composites of people I knew.
What's your favorite scene?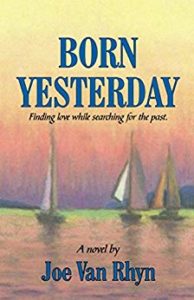 Growing up I spent my entire summer on the lake, swimming, fishing, boating, and water skiing. On weekends we had competitive sailboat races. People said, in the race scene, they felt they were in the boat and caught up in the excitement of the race. I guess it would be my favorite, too.
What more should people know, and where can they learn it?
In the usual places, I have three books on Amazon in both paperback and for Kindle. Along with "Born Yesterday," I have the follow up book, "Battle Born," and my latest, a novella, called Life Along the Humboldt." This last one has no relationship to the first two. It is a pioneer story set in the 1860's.
The idea came out of the blue. I couldn't get it out of my mind. Everyday I'd be adding new parts to the story. Finally, I just had to put everything aside and write it. Nutshell? "Even in the midst of tragedy and hardship, love finds its way." I'm also on Facebook and have a website. www.joevanrhyn.com
You mentioned "Battle Born," what's it about?
One of my editors, loved the character of Nora, the crusty head nurse, in "Born Yesterday". She suggested I should do something more with her.  "Battle Born," the second in the series, is Nora's story going back to 1945. She a headstrong Army nurse, with a caring heart. A chance meeting with a fifteen-year-old girl sends Nora on a path, loaded with conflict, murder and mayhem.
So, what's next for you?
I'm well into book three. (still untitled) Our fifteen-year-old becomes the protagonist and she brings everything full circle back to the wonderful town of Pine Lake.
Subscribe to my newsletter and get a chance to win a signed paperback copy of  my upcoming novel.  Each month you'll receive links to interviews with great authors, news about upcoming events and previews of my work in progress, Acre's Orphans. Look at the bottom left of the page for the sign-up sheet. No spam, just once a month updates and a chance to learn about great new Historical Fiction of all types from around the world.