This is the first of many interviews to come with indie/small press authors of Historical Fiction. Our first guest is JR (or John, or Jack, he answers to all of them) Lindermuth, author of Watch The Hour.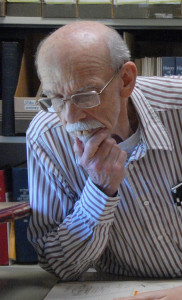 He is a retired newspaper editor and currently librarian of his county historical society where he assists patrons with genealogy and research. He is the author of 14 novels and a regional history. He is a member of International Thriller Writers and currently serves as vice president of the Short Mystery Fiction Society.
So in a nutshell, what's the book about?
In the 1870s in Pennsylvania 's anthracite coal region, mine owners and their employees, particularly the Irish immigrants, are in conflict over working conditions. Private police forces commissioned by the state but paid by the coal companies are sworn to protect property of the mine owners.
Ben Yeager is one of these police officers. He does his best to follow orders while trying to be fair to the workers whose lot he sees as little different from his own. Despite his efforts at fairness, his job makes him the enemy of the Irish, and that's the cruz of his troubles…. Ben is in love with an Irish girl.
What is it about this time period you find so fascinating?
I grew up in the coal region and many of my ancestors worked in the mines. A few even served as "coalies" (as these police were known). I write a weekly history column for two area papers and have published a regional history (Digging Dusky Diamonds) about the lives of the miners and their families in the 19th and 20th centuries.
So, hook us. What's a scene in the book you think is pivotal?
A pivotal scene in the novel is when Ben is beaten into unconsciousness and laid out to be killed on the railroad tracks, an attack immediately attributed to the Irish. Without identifying the actual culprits, the incident is important because it solidifies once and for all the love between Ben and Jennie.
Sounds great. How can people find out more about you and your work?
My blog is http://jrlindermuth.blogspot.com/. 
My Amazon page  https://www.goodreads.com/author/show/1005496.J_R_Lindermuth
Goodreads https://www.goodreads.com/author/show/1005496.J_R_Lindermuth
Twitter @jrlindermuth Facebook http://www.facebook.com/john.lindermuth
Check out his work, and support the work of indie and small press writers everywhere. Do you know of someone we should feature in this blog? Drop me a line or put it in the comments below.