One of my favorite subjects to read about is the French Foreign Legion. In fact, I am currently doing research for a potential novel (you don't want to see how many files I've started for how many novels. If I live to 110 I might get to them all) which led me to Ian Colquhoun's novel, "Le Boudin- The Demons of Camarone." After reading the book, I reached out to see if he'd be interested in doing an interview. As you'll see, he is a fascinating guy with a personal history that's both unique and inspiring.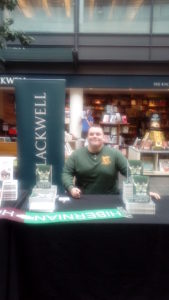 Ian Colquhoun is an author and historian from Livingston, Scotland. Since 2007 he has released 11 books, with subjects ranging from military history to football. He is a keen military historian and Hibernian FC fan. Ian's life changed in 2002 when, at the age of 24, he was the victim of assault and arson which saw him lose both legs. No longer able to do his old warehousing job, he went to university to study history and then went on to writing. For a time he was also an amputee actor/stunt man (okay, I now feel completely useless and out of excuses for pretty much anything!), and has appeared in movies like The King's Speech and Sunshine on Leith, as well as in TV series such as Taggart and Downton Abbey. Largely retired now for medical reasons, Ian still writes for a newspaper called The Irish Voice, mostly covering sports.
Besides being both a song and a song about Blood Sausage, what's Le Boudin about?
Le Boudin – The Demons of Camerone is a historical novel largely based around the French Foreign Legion , France's often forgotten conquest of Mexico in the 1860s and France's most famous military action – the 1863 battle of Camerone. The story revolves around the adventures of two young men who run off to join the Legion in search of a new life, which they certainly find, and in hope of redeeming their 'lost' honour after a terrible turn of events at home.
The story takes us from the British Isles, to Paris, Marseilles, Algeria, Mexico and all the way back again. True historical events and timelines are intermingled with fictitious but gritty and realistic stories involving the main characters, leading all the way up to the famous last stand by France's Foreign Legion at Camerone in 1863, and beyond. The book also compares Camerone to other  famous 'last stand' type actions from the same period in history, which are perhaps more celebrated but nowhere near as heroic.
It's a pretty bad-ass story, to be sure. What drew you to it as a subject?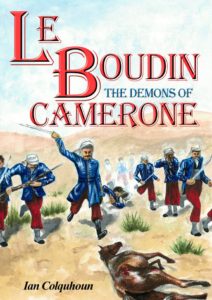 I write books as way of combating my own PTSD. I remember reading about the Camerone story when I was a teenager and being in awe of it. Later, the story resonated even more with me after losing my legs as , of course, Captain Danjou who led the Legionnaires at Camerone was himself an amputee, having lost his hand due to a rifle mis-fire several years before Camerone. As a boy one of my earliest memories of history is the BBC's early 80s mini-series version of PC Wren's 'Beau Geste' – it's so much better than the dreadful movie versions as it stays true to the book, including the scene where the beleaguered garrison at Zinderneuf sing 'Le Boudin' to keep up morale and to fool the Arabs into thinking that they are still at full strength. Later I read the actual book , aged 12, and then years later, as my writing career began after I lost my legs, I decided that I wanted to write  my own Legion adventure story. I find the 19th century's colonial wars fascinating – valiant , ferocious natives fighting against outnumbered, back to back imperial regulars, often to the last cartridge.  It was perhaps the last 'romantic' era of warfare, before machines took over – though there's nothing romantic about actual mass-slaughter.
The other reason I wrote this book is easily explained. I think the Camerone battle deserves a movie – I'm not necessarily saying that I think my humble novel should become that movie, but Little Round Top, Rorkes Drift, Custer's last stand and The Alamo all have movies made about them – Camerone is a far more heroic battle as both sides had guns, and France has a national holiday to celebrate its anniversary, yet there is no movie. Perhaps it's because it was The Legion and not France's regular army who fought the action, or perhaps there is no movie because France lost that war, or maybe there's no movie because the events occurred in a period when France's libertarian republic had been subverted by the second French Empire – or perhaps simply no-one has thought to make a movie about it yet. Whatever the case, my humble novel brings this largely French and Mexican episode in history into the English speaking sphere of things : If that inspires someone to make a movie about it then great, if it doesn't, I just hope they enjoy the book itself. It was a real adventure to write!
I'd watch that movie, for what it's worth. What's your favorite scene?
My favourite part of the book is actually the murky sub-plot which forces the book's heroes to flee to the Legion, though I confess, I also love the part in Mexico where the two armies exchange music as well as bullets! I'll say no more on that!
Where can folks find your books?
Le Boudin –The Demons of Camerone is available via Amazon or direct from LULU books.
My Goodreads author page is live, and you can learn about my other books there.
Follow him on Twitter @IanColquhounMA