Whenever I hear people freaked out by other cultures (and you see it all the time) I think about what it must have been like when someone would literally see a different colored face or hear a different language for the first time. I'm not alone in this, I presume, because Lewis McIntyre has written a novel about a literal clash of cultures: Ancient Rome crossing paths with the Chinese for the first time in his novel The Eagle and the Dragon.
So what's the Lew McIntyre story?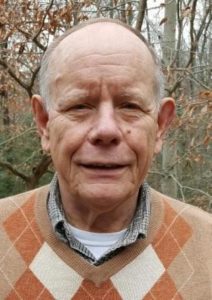 Hello to all.  My name is Lew McIntyre. I have done a little bit of everything, it seems. I graduated from the Naval Academy in 1970 and spent my career in Naval Aviation flying special-mission C-130 Hercules aircraft. I retired in 1990 and continued to support my aviation community to this day as an engineer, though the "Herc" has long since been replaced by the "Merc," the E-6B Mercury.
I am an odd character, an engineer that seems to have mastered the art of writing.  Over the past twenty years I have done a lot of technical writing that people actually seem to enjoy reading.  About twenty years ago, I began The Eagle and the Dragon, and now here we are, two books out, three in the oven, and my wife Karen has published two, with a third in work. We seem to have found our third careers!
Besides writing, I enjoy biking, amateur radio (call sign KB6IC) and deer hunting.
OH, he tries to sound all normal-guy and non-engineery, then he goes and gives us his HAM sign. Probably not helping your cause any, but I digress. What's The Eagle and the Dragon about?
The Eagle and the Dragon is a fictional account of the first Roman mission to China, set in 100AD, and modeled loosely around an actual Roman mission to China in 166AD.  Like most first missions, nothing goes according to plan:  Senator Aulus Aemilius Galba, tapped by Trajan to lead the envoy, expects an easy path to fame and fortune.  But the Fates have other plans for him and his unlikely companions.  From the storm-tossed Indian Ocean to the opulent court of Han China, from the grassy steppes north of China with the wild Xiongnu nomads, to the forbidding peaks of the Pamir Mountains guarding Central Asia, they will fight for their lives, looking for the road leading back to Rome. It's quite an epic adventure, with a few love stories thrown in for good measure.
Writing it was a lot like watching a TV series, I had to go write the next chapter to find out what happened next!
Fun. That's how I felt writing Acre's Orphans. What intrigued you about this time period enough to invest the time writing a novel?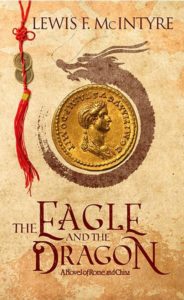 What intrigued me most about the era was the extensive contact the Romans had with "The Distant East", the Oriens Repositus as they called it. Every year for over two centuries, 120 ships a year sailed from the Red Sea ports over the open Indian Ocean for India, loaded with gold, silver and Mediterranean wine to purchase silks, peppers and spices, and artwork.  Even tortoise-shell, from which they made a plastic-like, decorative waterproof finishing for wood furniture. The scale of trade was almost modern in scope, about a half billion dollars in gold going out each year to purchase goods that would be marked up ten, twenty, thirty-fold and taxed at 25%.  There were Roman interest sections, today we would call them consulates, in dozens of Indian cities, along with Roman temples.  Buddhism made its way to Rome as a popular, philosophical religion… things we never heard of.  Roman coins of the era have been found in Nagasaki, Roman shipping jugs have been found in Vietnam, and they even got as far east as Kattigat, somewhere in Borneo. Outside London, two Chinese skeletons were found in a Roman grave across the Thames two years ago… I know their names, they figure in my sequel!
I just had to capture this wholly unknown side of ancient Rome, the big ships they used, how they would have defended their lucrative cargo against pirates, what they thought of the world of the East, so different from their own.  I had to experience for myself what it was like to make that trip, and bring that experience to my readers.
What's your favorite scene in the book?
I have two, I think.(Editors note: why does everyone always have two?)  One is a violent storm that blows up while the Europa is transiting the Indian Ocean.  I think it was a tropical cyclone, the time of year was right, but I believe they just grazed the fringes of it, otherwise, I might not have been able to finish the book.  The Europa was a big ship, a three-master of about 200 feet, but the seas were bigger, and they fought through the night to keep the ship afloat and facing into the forty-foot waves, wind gusting to perhaps eighty or more knots.  And the next day, de-watering the ship, surveying and repairing the damage, tending the injured.
Yes, the Romans had ships of that size.  I modeled the Europa, Asia and Africa off the Mediterranean grain freighters, which were of that size, perhaps 800 to 1200 tons displacement, for you nautical types. You can read about one such ship, besides my own, caught in a Mediterranean storm with St Paul on board, in the Acts of the Apostles.  It was a very detailed contemporary description of a prolonged storm at sea, accurate enough for a detailed reconstruction of the incident.
The second involves my heroine, Marcia Lucia, Chinese name Si Huar, who begins as an abused concubine of a mid-level Chinese official.  She rises throughout the story, coming to leave that life behind and find love with the grizzled centurion Antonius, for whom love is also a new experience. She learns to fight, much to his disgruntlement, taught by Hina, a warrior woman of the Xiongnu nomads.  Hina is a hard taskmaster and Marcia masters everything Hina sets her to do.  But when she faces her first real fight, a fight with her former consort that must be to the death if she is not to return to the life she left behind, she hesitates… almost fatally.  The doubt, the fear, the uncertainty of that first real fight, the agonizing pain of a serious wound that must be ignored.  Then sitting beside the dead body of the man she has known for ten years, the man she has just killed.
That's intense. Where can people learn more about you and your work?
You can find my book at Amazon, in Kindle or paperback. Or email me at mcintyrel@verizon.net and I will send you signed copy for just $20, shipping included at no extra charge.
https://www.amazon.com/Eagle-Dragon-Novel-Rome-China-ebook/dp/B01MSEAC3I/ref=mt_kindle?_encoding=UTF8&me=&qid=
I have a second book out, a short story, Come,Follow Me, a Story of Pilate and Jesus, that first Easter weekend told from the point of view of that most reluctant executioner, Pontius Pilate.  Also on Amazon.
Subscribe to my newsletter and get a chance to win a signed paperback copy of  my upcoming novel.  Each month you'll receive links to interviews with great authors, news about upcoming events and previews of my work in progress, Acre's Orphans. Look at the bottom left of the page for the sign-up sheet. No spam, just once a month updates and a chance to learn about great new Historical Fiction of all types from around the world.