Some people are water people, some are mountain people. Growing up in British Columbia, I'm a mountain guy, so I have a special place in my heart for the states and provinces that straddle the Rocky Mountains. These are also regions that don't have a lot of  popular history written about them–too few people and not enough wars (Custer aside) for serious historians. That doesn't mean there aren't great stories to be told. One of the more fascinating and under-reported eras is the age of the Copper Barons in Montana. Enter Milana Marsenich and her novel, Copper Sky.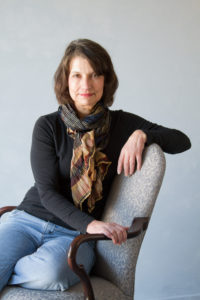 Milana Marsenich has an M.Ed. In Mental Health Counseling from Montana
State University and an MFA in Creative Writing from University of
Montana. She has previously published in Montana Quarterly, Big Sky
Journal, The Polishing Stone, The Moronic Ox, and Feminists Studies. She
has a short story included in the Montana Quarterly Book: Montana, Warts
and All: The Best From Our First Decade. Milana lives in Northwest
Montana where she enjoys hiking the wilderness trails with friends and
dogs. Copper Sky is her first novel.
What's Copper Sky all about?
Set in the Copper Camp of Butte, Montana in 1917 Copper Sky tells the
story of two women with opposite lives. Kaly Shane, mired in
prostitution, struggles to find a safe home for her unborn child. Marika
Lailich, a Slavic Immigrant, dodges a pre-arranged marriage to become a
doctor. As their paths cross, and they become unlikely friends, neither
knows the family secret that holds them together. At its heart Copper
Sky is a mining city love tale: filled with fierce, loyal, disturbed
love, love that is ultimately a reconciling force in a community laced
in tragedy.
What is it about the story that attracted you? Why this tale?
I grew up in Butte and through the years I heard a lot about its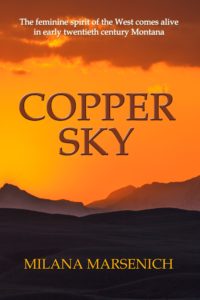 history. The Speculator Mine disaster in 1917 was one of the most
devastating mining accidents in the nation's history. 168 men died
there. Not much had been written about it when I first began Copper Sky.
I wanted to honor the courage and resilience of the Butte people, and
especially how they came together to survive and heal their grief. I am
also fascinated with how the tragedies of Butte affected its people
through the generations.
My grandparents immigrated from Montenegro and I'd heard stories of "the
Old Country" all of my life. These stories inspried Marika's character.
My grandparents had a pre-arranged marriage. While the actual story of
their arrangement is very simple, I wondered what else might have gone
into it. How did my grandparents get to "yes" once their parents
informed them of their pending marriage?  Also, many stories of Butte
include some reference to "the red-light district". I wondered what it
was like for the women that "worked on the line". What were the
experiences that moved a woman toward the dangers of prostitution?
Without giving away spoilers, what are your favorite scenes in the book?
I have to say that my favorite parts of the book are the four small
White Dog sections. They refer to another Butte accident: the 1895
Warehouse Fire. Unknown to the Butte fire department or the townspeople,
the warehouse stored dynamite. It was against the law to store dynamite
within the city limits. Most of the Butte fire department and many
spectators died when the dynamite exploded. The White Dog explores the
town and watches the events as they unfold. He follows the townspeople
and takes us through the town. From the beginning the White Dog shows
the nature and the good heart of the town.
Another favorite scene of mine is when Marika's fiancé, Michael Jovich,
comes to dinner. She is trying to behave, but she is not happy about it.
Her father, uncharacteristically, pours rakija, plum brandy, for
everyone at the table. Marika gets a little drunk and talks more freely.
She asks her father to pour more plum brandy for her. He resists. She
really wants more plum brandy. "She hadn't known she was so brilliant."
Lord knows, we've all been there.  Where can people learn more about you and Copper Sky?
My website: https://www.milanamarsenich.com/
Facebook: https://www.facebook.com/MilanaMarsenichAuthor/
Twitter: https://twitter.com/milanamarsenich
Subscribe to my monthly newsletter and get a chance to win a signed paperback copy of Acre's Bastard.  Each month you'll receive links to interviews with great authors, news about upcoming events and previews of my work in progress, Acre's Orphans. Look in the bottom left of the page for the sign-up sheet. No spam, just once a month updates and a chance to learn about great new Historical Fiction from around the world.