Quick, what do you know about Italy after WWI or Austria in 1920? Did you know there was a "German-speaking" part of Italy? Yeah, that's what I figured. One of the great joys of reading historical fiction is hearing stories you've never heard about from places you probably haven't given much thought to. That doesn't mean the stories aren't dramatic, interesting and worth hearing. Enter Chrystyna Lucyk-Berger, and her "Reschen Valley" series, beginning with the first book, "No Man's Land."
Okay, Chrystyna, what's your story?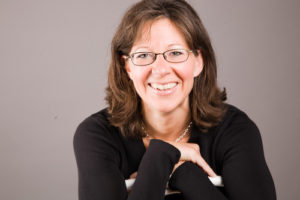 I'm an American ex-pat living out her Grizzly Adams dream in the Austrian Alps. I don't have a bear, but I do have a dog, a cat, a whole hell of a lot of fat chickadees and a very mild-mannered husband with whom I laugh every day. I grew up in Minneapolis, Minnesota, attended Rocky Mountain College in Billings, Montana and studied to become a veterinarian.
Then an English professor rescued me.
Or brought you over to the dark side, depending on your outlook, I suppose. In a nutshell, what's the book–and the series–about?
No Man's Land is the first in the Reschen Valley series, with five parts spanning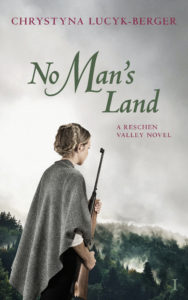 from 1920–1950. The Breach, which is part 2, releases March 15th and is on preorder now.
The series take place in South Tyrol, just located south of the Austrian border. In the first part, we are introduced to Katharina Thaler, a Tyrolean farmer whose only remaining family is her grandfather. While out hunting, Katharina stumbles on an Italian engineer who's been stabbed and left to die on her mountain. Saving Angelo Grimani's life thrusts both of them into a labyrinth of corruption, greed and prejudice as Katharina is caught between the Tyroleans who are trying to stop the annexation to Italy and the growing Fascist powers that need their land to produce electricity.
What is it about that time period or this particular story that attracted you?
You have to imagine driving south from Austria over the Reschen Pass in the Alps and then crossing the border into Italy. The first thing you expect are pizza and pasta stations, Italian signs, and Italian architecture. But that's not what happens. It still looks like Tyrol with a few Italian names. In fact, everything is still in German and in Italian and everyone speaks German.
Then it comes: spreading out before you, an unbelievably beautiful lake some 4 miles long and nestled in the alps. The sight takes your breath away. You pass the first town and quickly come upon the next one called Graun / Curon Venosta. And then there it is. Off to the right, some 100 meters from the lakeshore, is a fully intact medieval church tower sticking straight out of the water. My first reaction was, "What the hell happened here?" It took me ten years, and loads of building up my German language skills to find out. When I did, I was horrified that we never learned about this part of history. The Tyrolean-Italian conflict was a huge deal! And the pain of that history is still there, just under the skin, hot as embers and as volatile as gunpowder.
Without spoiling surprises, what's your favorite scene in No Man's Land?
I not only love reading but writing the scenes between Angelo Grimani and the Colonel, his father. I tap into my dark side in those scenes, something I keep very well under control and hope I only utilize to write my villains. I consciously set out to make each of my characters complex and three-dimensional. I honestly believe that every person is just trying to do their best. The world is paved with good intentions, they say, but it's where you lay the pavement that determines whether you're an a-hole. (Wayne's note… actually that's the road to hell, but some days there's not a lot of difference.)
One of my other favorite parts to write was Chapter 10, which is the baby of the published book. When I sent the script to an editor last summer, she came back and said, "I just don't think we're invested in Katharina enough. What does she really want? Make us root for her."
I did not despair. On the contrary, I was really glad she said something, because in all these years of writing Katharina, I was frustrated and disappointed with her development. I've got a female character trapped in a day and age where she just cannot be emancipated. On the contrary, her choices make her want to blend in as much as possible and it was ticking me off that she was fading into the background. After I hung up with the editor and as I was driving to my other job, it hit me like lightening. It was there, I realized. I just had to make it explicit. I knew what Katharina wanted and the threads were all there, I just had to pull them forward. The new Chapter 10 managed to solidify that for me and I was able to pull her back in with great strength.
Where can we learn more about you and your books?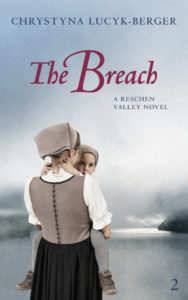 You will find me on Goodreads a lot (Chrystyna Lucyk-Berger). I'm doing a Kindle giveaway of No Man's Land until the 24th of February. If you sign up for my newsletter, you'll get the notices of the free Kindle version planned five times between now and April. They'll only run for 24 hours each time.
You can sign up on my webpage at www.inktreks.com.
Otherwise, for 99 cents, No Man's Land: Reschen Valley Part 1 is exclusively on Amazon for now.: https://www.amazon.com/dp/B078WDPDSJ
Part 2, The Breach,  is on preorder with a March 15th release date.
Subscribe to my monthly newsletter and get a chance to win a signed paperback copy of Acre's Bastard.  Each month you'll receive links to interviews with great authors, news about upcoming events and previews of my work in progress, Acre's Orphans. Look in the bottom left of the page for the sign-up sheet. No spam, just once a month updates and a chance to learn about great new Historical Fiction from around the world.