One of the most mythologized/lied about/ accurately reported periods in history is the opening of the American West. So much that's true is fascinating and so much of what is "known" is uhhhhhhh utter nonsense. That said, it's ripe for good historical fiction. That's where Janet Squires comes in.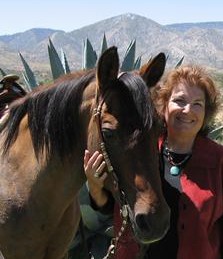 She began her career writing short stories and nonfiction articles for national periodicals. However, my work as a Library Media Specialist for a school district inspired me to shift by attention to children's books. Her first picture book, The Gingerbread Cowboy, is the Arizona Governor's 2007 first grade book. A special edition of 100,000 copies was printed and distributed to every first grade student in the state.
Since then she's broadened her focus and now writes fiction and nonfiction for both children and adults, which brings us to her novel, "Desperate Straits" She teaches writing workshops, volunteers for literacy events at libraries and schools, tend a large organic garden. In whatever time she has left, she likes to saddle up and ride, or hike with her dog.
Okay, so in a nutshell, what's "Desperate Straits" about?
Irish immigrant Sarah Ryan's hope for a new life in the Arizona Territory is shattered in an instant by gunfire. Suddenly, she has to rebuild an uncertain future with her orphaned nephew, Will, and take on the challenges of a cattle ranch, be it installing cattle guards or fending off poachers. Just when order returns, veteran lawman, L.T. McAllister rides in. He's a dangerous man determined to do what's right regardless of the personal cost. L.T. believes himself ready for anything until he meets Sarah. Her ideas about the man he's become soon pit his lifetime of duty against desire.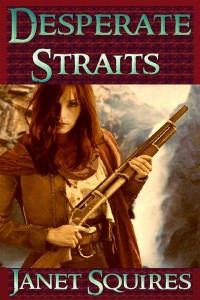 L.T.'s and Sarah's loyalty to Will catapults them into a life for which neither one is prepared. When L.T. and Sarah stand between one man and his obsession with the Lost Adam's Gold, they trigger a firestorm of retaliation. Kidnapping and murder escalates into a battle for justice… and their lives.
What is it about that time period you find so fascinating?
The American frontier has always been a passion for me. I grew up listening to tales of how my Irish/Cherokee ancestors pioneered their way West as ranchers, miners, and lawmen. Later, research into my family history uncovered personal accounts of life in the eighteen hundreds — Kentucky during the civil war — wagon trains from Texas — lives that inspired me with examples of fortitude, courage, and humor. Frontier life is personal for me.
One of my fondest childhood memories is waking in a creaky old iron bed to the sound of my Dad chopping wood so Grandma could cook breakfast on the wood burning stove she used til the day she died. I'm a daughter of the West… it's the place where I'm at home.
Without giving away spoilers, what's your favorite scene in the book?
Oh, wow…this is a tough question. Certainly, one of my favorite events is Sarah's arrival in the Arizona Territory from Ireland. She defends herself against a shotgun wielding ranch hand with nothing but a broom, teaches herself to ride astride, and confronts the challenge of befriending her newly orphaned nephew. Each trial speaks to Sarah's strength of character, courage, quick wits, and sense of humor. A quick poll of some of the men who've read my book puts L.T.'s action scenes at the top of their favorites list.
Men, what're you gonna do with them? Where can people learn more about you and your work?
People can learn more about me and my books through these Social Media Outlets —
Website: http://www.janetsquiresbooks.com/
Facebook: https://www.facebook.com/janetsquiresbooks?ref=hl
Amazon: http://www.amazon.com/Janet-Squires/e/B001IGQIQK/ref=sr_ntt_srch_lnk_1?qid=1445792569&sr=8-1
Blog: All About the Books with Janet Squires: http://janetsquires.blogspot.com/
Twitter: Janet Squires Author@Janet Squires
I'm also on GoodReads and Riffle.