It's easy to forget that the "great men" of history were real people. I mean, it's one thing to think about  Machiavelli, but can you imagine being the spouse of someone who actually thinks and operates that way? That kind of thinking got me intrigued by the subject of Wayne Ng's new novel.
Lao Tzu is widely quoted and, along with Confucius, is one of the few Chinese thinkers most of us can name. But who was he, and what was his deal? That's where Finding the Way comes in.
Wayne, besides having a very cool first name, what's your story?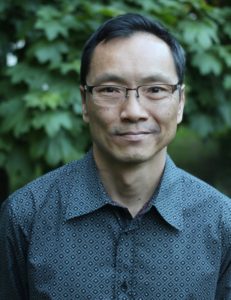 I was born in downtown Toronto to Chinese immigrants who fed me a steady diet of bitter melons and kung fu movies. Like my romantic, idealist protagonist Lao Tzu, in Finding the Way, I dream of a just society, of worlds far from my doorstep, and of tastes, sensations, and experiences beyond my imagination. I am a school social worker in Ottawa but live to write, travel, eat and play, preferably all at the same time. I'm an award-winning short story and travel writer who has twice backpacked through China. Hopefully, I continue to push my boundaries from the Arctic to the Antarctic, blogging and photographing along the way at WayneNgWrites.com
I know you're a traverler because when I showed you a picture I took in Guatemala you correctly identified the lake, which is impressive. So this book attempts to capture Lao Tzu's (or Laozi's) work and his life. What's the plot of"Finding the Way"?
Finding the Way is a fictionalized story of China's ultimate dreamer, the philosopher Lao Tzu. Rooted in history, based on legends, Lao sees a world spinning too fast. People feeling alienated, disconnected, insecure, unable to find solace in each other or governments, leaders without a moral or altruistic foundation…this isn't just 6th century BC, but also here and now. The historical context of Finding the Way was written to synchronize with similar modern questions today. The emptiness and imbalance Lao Tzu spoke of then weighs us down as heavily then as it does now. However, he also offered a soothing balm through Taoism that gateways into an inner peace and harmony that's as relevant and necessary now as it was then. This story isn't just a cerebral journey, but also a political thriller wrapped in a philosophical bow tie.
I'm certainly familiar with some of Lao Tzu's thinking, but what is it about the time period or the man himself that intrigued you?
Very little has been written about the China of 2500 years ago. And though Lao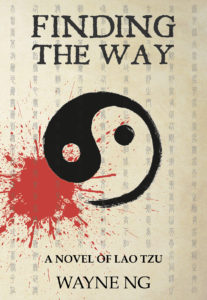 Tzu is much admired and venerated, he often falls into the uni-dimensional wise, old, all-knowing sage, and not much else. I felt it was timely that the world came to better see him in the flesh, which I imagined to be brilliant but also a naive, idealist, and almost tragic figure.
I also wanted people to better appreciate eastern history. That much of the world has an appalling lack of knowledge and understanding of it, is short-sighted and Euro-centric, like almost all historical fiction in the west. Yet the prize of understanding the totality of China is not just reconciling whether it's a friend or foe, but in providing answers to much of what ails us here and now. Lao's the Way/Taoism tells us that our thirst for sanity and simplicity is a quest that transcends culture and time. I believe if he were here today and started to write Tao de Ching all over again, the message wouldn't be much different, He might have a rant about social media. But his message is as important now as it was then: that even in a time where rulers are unjust, where change is scary, where greed and consumption drive us away from our natural state of balance and harmony—-we cannot lose hope.
Since you can't simulate his Twitter account,  and don't want to give away any spoilers, what's your favorite scene in the book?
Two sections stand out for me. Chapter 2, where Lao sees how the natural rhythms and energy around us are a force to be reckoned with and respected. This leads to the development of the Way/Taoism. Imagine Yoda discovering the Force and you'll get what I mean.
The other section is 40 years later, when Lao has a private audience with one of the Princes vying for the throne. Lao comes to appreciate that the world and the people around him aren't always as they seem, that people and circumstances are multi-layered and not so easily reduced.
Okay, there is another section, the end, big reveals happen, stunning, really. But that's all I can say.
Fine, be that way. Where can people learn more about you and your work?
   Website   WayneNgWrites.com
  Amazon   amazon.com/author/WayneNg
Facebook  facebook.com/WayneNgWrites
            Twitter  twitter.com/WayneNgWrites
Goodreads  goodreads.com/WayneNgWrites  
Subscribe to my newsletter and get a chance to win a signed paperback copy of Acre's Bastard.  Each month you'll receive links to interviews with great authors, news about upcoming events and previews of my work in progress, Acre's Orphans. Look at the bottom left of the page for the sign-up sheet. No spam, just once a month updates and a chance to learn about great new Historical Fiction of all types from around the world.