The internet is a small place, especially for historical fiction authors. We tend to cross paths in the same Facebook groups and Twitter feeds. I've been aware of MJ Logue for a while, and have been eagerly awaiting the publication of her new book, "An Imperfect Enjoyment," to interview her. Her funny, snarky outlook on life can't help but infiltrate all her work.
So what's MJ Logue's deal?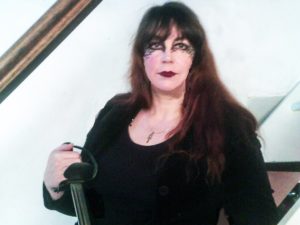 Writer, mad cake lady, re-enactor, historian.
Been slightly potty about the clankier side of Ironside for around 20 years, and lists amongst my heroes in this unworthy world Sir Thomas Fairfax, Elizabeth Cromwell and John Webster (for his sense of humour.)

When not purveying historically-accurate cake to various re-enactment groups across the country, M.J. Logue can usually be discovered practising in her garden with a cavalry backsword.  (for the record, I don't believe those exact words have ever been put in that exact order….ever.)
So what's the nutshell version of your book?
An Imperfect Enjoyment is basically The Thin Man meets Forever Amber: if you can imagine the suave and rather elegant investigators of 1930s pulp fiction, set in Restoration England. A little bit sexy, grimly witty, slightly violent, and unerringly sophisticated.
Being the story of Thankful Russell – middle-aged, slightly-broken Admiralty intelligencer, retired – who finds himself married to the girl he's always loved. (Turns out she'd always loved him, too. She was just waiting for him to notice.) The romantic Thomazine is big on happy ever afters. The problem is, as war with the Dutch looms and tensions run high in the capital, someone's determined that she shouldn't get one – or, indeed, that Russell's going to get any kind of ever after, other than a traitor's execution. Would a man whose principles led him to once take up arms against his King, turn his coat again and work against His Majesty for the Dutch Republic? Thomazine doesn't think so. But her determination to see him cleared is going to lead them into more danger, and more high places, than either of them would have dreamed of….
What is it about that time period that fascinates you so?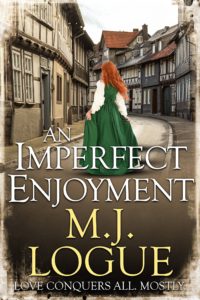 Why the 1660s? Because I write another series set during the British Civil Wars, in which we initially meet Thankful Russell as a very badly damaged young lieutenant in the Army of Parliament, and because he meets Thomazine (in those books) when he's twenty-one and she's a little girl of not quite two and it was clear to me as a writer from pretty much that meeting that they were going to get together one day. She sees him as her especial property: because he's disfigured, he's terrified of women his own age – or their pity, at least – and Thomazine, not having known him before the scars, just thinks of him as… well, as Russell, really; as her rebel angel. So I had to know how that was going to pan out. He has to go away to come back, if you see what I mean.
So there are the two stories running alongside each other. There's a not-quite-young man who's thoroughly messed up, who's got to the age of forty-two without having dared to love anybody in his life, and a girl who is single-minded enough to take him on but who's starry-eyed enough to forgive his not being wired up right: and how they learn to be ordinary, really, to have a marriage and a home and children (one day…) together. There's that. And then there's the various intrigues and upheavals and literary chicanery of the Restoration going on around them: Sam Pepys the chest pest, and Aphra Behn and the Earl of Rochester writing dirty poems, and the theatre, and all of that. Imagining how you would live in that new world, if you had been happy with the old world. If you hadn't been a fop or a cavalier or a poet, but someone who had believed in the ideals of a Commonwealth and a democracy without kings.
What's your favorite scene in the book?
Oh, they make me laugh, them two. I couldn't pick a favourite. Possibly the scenes where Russell decides that the best way to clear his name of a number of murders is forensically, and finagles an introduction to the Royal Society to talk about dead bodies. (With a very real and practical introduction to the same, which makes Thomazine heave.) There's always an assumption that being a middle-aged, scarred, lapsed Puritan administrator he must be this dry-as-dust and rather humourless individual and he plays up to it relentlessly – being neither. I suspect he and Thomazine think it's howlingly funny, in private. The sort of scene that could be high romance and oh-darling-your-eyes-are-like-stars, entirely derailed by a ticklish man and a woman with cold feet….
Or Chatham Docks. Because obviously, it's a romantic thriller, and that means the heroine will need to be rescued from the clutches of the bad guy. Or, as it were, not. One minute it's all sly humour and political intrigue, and the next minute it's hairpins in the eyeball, with a horrible gristly crunch.
Where can people learn more about the wonder that is MJ Logue?
Website:         www.asweetdisorder.com
Twitter:        @hollie_babbitt
Facebook:        www.facebook.com/MJLogue/ 
Amazon links: Author.to/MJLogue