The best part of writing (or reading) historical fiction is the "what if" game. So here's one for you. What if Arthur Conan Doyle was caught up in the Jack the Ripper investigation and THAT'S what gave birth to Sherlock Holmes? You gotta admit, that's a good one, and it's the premise of Bradley Harper's novel, A Knife in the Fog.
I stumbled across the book while listening to Ilana Masad's podcast, The Other Stories (check it out.)
So, Brad, what's your deal?
I'm a retired US Army pathologist with over 200 autopsies to my credit, about twenty of which were forensic in nature. Prior to attending med school I was an Airborne Infantry officer who had a bad encounter with an army physician, and I decided I could do better. I've had four commands, served in the Pentagon on the personal staff of the US Army Surgeon General, and while supporting US Special Forces in Colombia had a $1.5 million bounty on my head for anyone who could deliver me alive to the FARC (offer no longer valid, by the way). In Nov-Dec timeframe my wife of forty-five years and I portray a happily married couple from the North Pole at a local theme park. I'm a soft touch however, and only threaten those on the Naughty List with Spiderman Underoos or burnt cookies.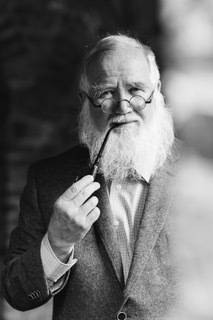 You are a doctor, double as Santa Claus AND write  your butt off. That's a good life you got going. What's the premise behind A Knife  in the Fog?
My book is a work of historical fiction, in which I put a relatively unknown young Arthur Conan Doyle on the trail of Jack the Ripper, until the Ripper begins stalking him. I did extensive historical research into the Ripper murders, the Whitechapel area, and Victorian society. I relied heavily upon the expertise of Ripper historian Richard Jones, who besides having two books to his credit on the Ripper, runs a walking tour company that goes in Whitechapel at night. I bought out an evening tour so for some three hours the two of us ambled through the Ripper's old hunting grounds, and stopped for a drink at the Ten Bells, a pub that served two of the Ripper's victims, and is still in business today.
That's a killer premise. How'd it come to you?
My idea for the book came to me one day while reading about Doyle on Wikipedia. I was surprised to learn that there was a four-year gap between the first Holmes story, A Study in Scarlet (written 1886, released 1887), and the Sign of Four (written and released in 1890). Doyle had a terrible time getting anyone interested in the first story, and in the end settled for twenty-five pounds and loss of copyright just to get it published. Doyle was so embittered that he swore to never write another "crime story." The Ripper murders happened in late summer and early fall of 1888, and I conceived of a tale involving Doyle that would explain why he eventually agreed to return to Holmes and why the Ripper suddenly stopped without ever knowingly being caught. The idea just grabbed hold of me and wouldn't let go.
Tell us about one particular scene in your book
During my walk with Mr Jones he mentioned that the discovery of the body of the Ripper's fifth victim, Mary Kelly, coincided with the installation of the new Lord Mayor of London, scarcely a mile away, and that thousands of people left the ceremony to witness her body's removal. The report at the time mentioned that the crowd was utterly silent as her body was carted away in a simple wooden box. I interspersed the sights and sounds of the formal ceremony with this scene of pathos, and had the sounds of celebration just discernible to the silent witnesses to the Ripper's foul handiwork.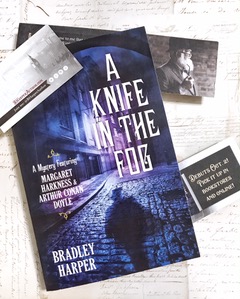 It was a similar one-on-one with a tour guide that inspired Acre's Bastard and Acre's Orphans. What else should we know?
My book is available at all major bookstores and most independents that deal with mystery, as well as Amazon, and an audio book (Tantor Media) and ebook format are also available. I was flattered to be allowed to choose the narrator, and Mathew Lloyd Davies, who won an Audie in 2018, just blew me away. A former member of the Royal Shakespeare Company, his narration is really a performance. Hearing my words voiced by a professional actor was a thrill I really can't describe.
Not to barge in on Brad's interview, but Acre's Orphans is now available for pre-order on Amazon, Barnes and Noble, and Chapters. Please help us launch it successfully by buying now. And any time you read a book like Knife in the Fog (or one of mine,) please leave an Amazon or Goodreads review. It's like applause for the author.