When the question "What is Historical Fiction?" comes up, you get all kinds of answers. There are innocent Regency romances, brutal military fiction, Arthurian fantasies and strict transcriptions of famous events …. but what about straight-up erotica? Did our ancestors get their freak on? Today I interview V.W Singer, who writes fiction laced with S&M and other things, often set in the past. We're talking today about his pirate-themed novel, "Port Royal."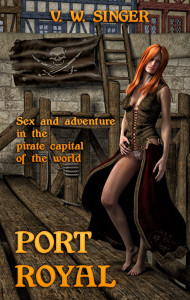 So what's the VW Singer story?
I've always loved to write and tell stories. Nowadays I'm a full time author. When I was younger I used to entertain my friends with impromptu stories invented on the spot. However, first I became a Charted Accountant. I've been a CFO, General Manager, and Project Director in a multinational organisation. I'm multi lingual and I've lived and worked all over the world. In my time I've faced down super typhoons on a Pacific Island and been shot at and chased by machete wielding rebels, all as part of the job. I started writing seriously when I discovered that no one was writing erotica or science fiction the way I wanted to read it. So I decided to do it myself. I particularly enjoy writing historical erotica, because the history of mankind is the history of sex, and even BDSM style sex that can be found on websites like https://www.watchmygf.xxx/. From Egypt to Troy to Rome, and Henry VIII to Bill Clinton, sex has shaped the world. BDSM itself has a long history as well. One of the earliest English sex novels "Fanny Hill" has a very explicit birching scene, Victorian Erotica is filled with it, and nowadays BDSM is almost mainstream.
With regard to BDSM, whether you see it if you navigate here or indulge in ityourself, that's fine, I am a practitioner, a Dominant in real life, and have been involved in it for over twenty-five years. I have no shame in saying this and I openly admit that I buy BDSM sex toys from places like https://lovegasm.co/ to aid my sexual encounters. Not only that, but I make sure to replace them when I can with specialized equipment; at times I have decided to see what is available at loveplugs with my partners and have them choose.
So obviously, the sexual aspects of my novels are true to life and take inspiration from my experiences. In fact, they are just as true as the historical, kind of reminiscent of content from websites like https://www.nu-bay.com/.
In a nutshell, what's the story about, and why Port Royal?
Port Royal is a combination of a "Captain Blood" style pirate adventure and intense SM (sadomasochistic) erotica. While I consider it romantic, it is not a Romance novel. The sex is detailed and explicit just like videos on websites similar to www.hdpornvideo.xxx. But so is the plot and action. I was inspired to write this book by the surprising (to me) discovery that during the late 16th to 17th centuries, slavery in the Spanish Main, which was the Caribbean and the Americas, consisted primarily of white men and women. Most were Irish, with a good number of English, swept off the streets of London and other cities by gangs called "Spirits" – hence the term "spirited away" – and sold off to the Caribbean as "indentured servants". Such contracts were supposed to be for limited periods and the "servants" were supposed to be released with a cash stake. But the owners found numerous ways to extend the contracts. Disobedience, attempted escape, and so forth added time to the contract. Children born during the contract became permanent slaves, forcing the parents to stay on. Many worked the "servants" to death rather than pay the freedom stake.
The city of Port Royal was known at its peak as "the most sinful city in the world", which was hardly surprising since it was the base of the famous Pirates of the Caribbean. The pirates defended Port Royal from the Spanish and were its chief source of revenue. The dock-sides were filled with shops and bars and brothels. It is in this setting that the story's hero Captain Harry Pierce, privateer (licensed pirate and pirate hunter), trader, brothel keeper, and slaver, has his adventures. There are battles at sea, duels on land, intrigue, treachery, and sadistic sex, especially with his private collection of beautiful Irish slaves.
So is this researched historical fiction, or just "Fifty Shades of Pirates?"
It took over a month of research to write this book. I learned about every aspect of the period, location, and people. Everything from clothes and underwear, to politics and geography, naval technology and techniques, all the way to the sex practises of the period. As you can imagine, part of this research even included watching a lot of adult content on websites such as https://www.porn7.xxx/. I happened to write a short illustrated blog piece on this very subject, which can be found on Goodreads. You can check it out here: https://www.goodreads.com/author_blog_posts/8782406-looking-into-research
Probably the best way to illustrate the level of research is to show an extract of the research directory on my computer relating to Port Royal: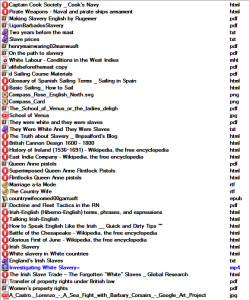 Assuming we use "incognito mode," and don't do it at work, how can we find you and your books?
Thank you Wayne for this opportunity to talk about my work. Hopefully it will be of interest to your readers.
What happens on your Kindle, stays on your Kindle….