Even growing up in Canada in the 60s and 70s, the Vietnam War was present throughout my childhood. I remember watching Walter Cronkite with the "scoreboard" up behind him. Every Canadian high school had that cool English teacher who appeared to come from nowhere (usually with long hair, bellbottoms, an acoustic guitar and a vaguely Midwestern accent) and I'm fascinated by the many books and films that have come from that era–both the classics and the crap. Enter Rick DeStefanis and his new novel, The Valley of Purple Hearts.
Rick is known as "The Word Hunter." The author of six books, he brings a wide range of life experiences to his writing. His experiences as a paratrooper with the U.S. 82nd Airborne Division from 1970 to 1972 predicates his Vietnam War Series, a collection of novels written as historical fiction, but which exceed simple genre classification. DeStefanis writes not only about men at war, but the women they love and their families back home, as well as the people of Vietnam. His novel, "The Gomorrah Principle," was a Readers Choice Book Award Winner in 2014. He also published "Tallahatchie" in 2016, the first book in his new Southern Fiction Series.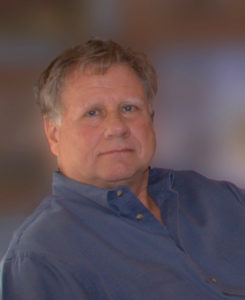 Rick presently lives in northern Mississippi with his wife, Janet, six cats and a male Labrador retriever named Blondie.
I'm not going to even think about the gender identity crisis you've created for your poor dog. Let's get to the book. What's the story about?
Have you ever wondered about that father, grandfather, uncle or brother who served in Vietnam? What was it that he refused to talk about? Or perhaps your question is: Why did he drink so much, or couldn't keep a job, or had three divorces? What was it that made this person that way? These things are what "Valley of the Purple Hearts" is about. It's about a squad of paratroopers with the 101st Airborne Division fighting in Vietnam, immediately after the 1968 Tet Offensive. It's about their lives, their friendships, their loves, the war and the aftermath. I like to call it my Vietnam War version of A Farewell to Arms.
Protagonist Buck Marino is a dumb kid from Mississippi who finds he is facing the consequences of his poor decision to join the army and escape the rural farm life of his deceased parents. And when he meets Army nurse, Janie Jorgensen, he falls in love, only to realize the war has destroyed his vision of a happy life. This book is about the violence of war, the effects on the soul and redemption.
I've listened to their stories and read dozens of non-fiction accounts by Vietnam War combat veterans. Many of their books are very well written. Most are not. This is not to degrade the efforts of brave men attempting to tell their stories, but merely to state an observation. And the most recognized stories are those that have been bastardized by Hollywood for the sake of entertainment. The problem with the veterans' stories is that describing the pain of burning alive is probably not quite possible after the fact. Most cannot see beyond the flames that consumed them. Historical Fiction allows a knowledgeable author to show the deep emotions the veteran cannot often sufficiently express. It allows a certain exposition from an external perspective that cannot be otherwise replicated. Historical fiction goes deep into the human psyche, a place where many fear to tread.
Is it your own experience that makes that period so intriguing for you?
I was a wall flower who got dressed for the big dance and was left behind. I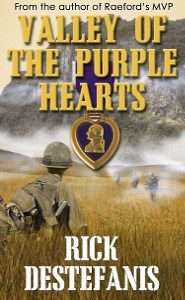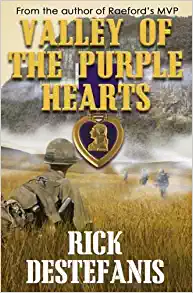 trained; I did everything in preparation to go to Vietnam. I even got orders, but my military orders were change at the last minute to go to the 82nd Airborne at Fort Bragg. A year later, while still serving with the 82nd Airborne Division, my friends from AIT at Fort Polk and Jump School at Fort Benning began returning from their tours of duty in Vietnam. I spent many an hour in bars in Fayetteville, North Carolina listening to their stories and the hell I missed. Even then, these combat veterans refused to let me write about their experiences. My only option became to write them as fiction, with the mission of telling the things they revealed to me (only when they had consumed enough alcohol to bear the pain). My novels are their stories, and I tell them for the purpose of giving credit to a generation of combat veterans who were marginalized in a political climate very similar to that which we are experiencing today.
Without giving away the goods, what's your favorite part of Valley of  the Purple Hearts?
The ending!  Okay, that's true, but let's talks about my "second" favorite scene. 1968 was the beginning of the "sexual revolution." Youth in America were breaking away from the rigid mores of their parents. This led to a certain degree of promiscuity, probably over-emphasized in many respects, but very real. Buck Marino was of this generation, but when he finds himself in the room above the Vietnamese laundry in Phu Bai with Janie, he suddenly realizes what is about to occur is not simply a sexual tryst. Chapter Nine, "A Night at the Laundry," is my next favorite scene, because Buck realizes if he follows through and makes love with Janie, he is signing a lifetime mortgage of commitment.
Where can we learn more?
Valley of the Purple Hearts, will be out by August 1st, 2017, and the first three books in the Vietnam War Series are available in paperback and Kindle editions at Amazon.com , and can  be ordered through most book stores.