One thing about being with a publisher like Black Rose Writing, rather than publishing myself, is that you become a community and get introduced to plenty of other writers. One such person is Oklahoma author Luke Swanson. I got a chance to read his new thriller, Epicenter, and thought it would be great for you all to meet him as well.
Luke, what's your deal?
My name is Luke Swanson, and I'm a fledgling author from Oklahoma City. I currently have three books published—a mystery, an action thriller, and a tragi-comedy—with a fourth coming in July. If I had an agent, they would tell me, "Write a consistent genre, you dolt!" But I don't, so I do what I want.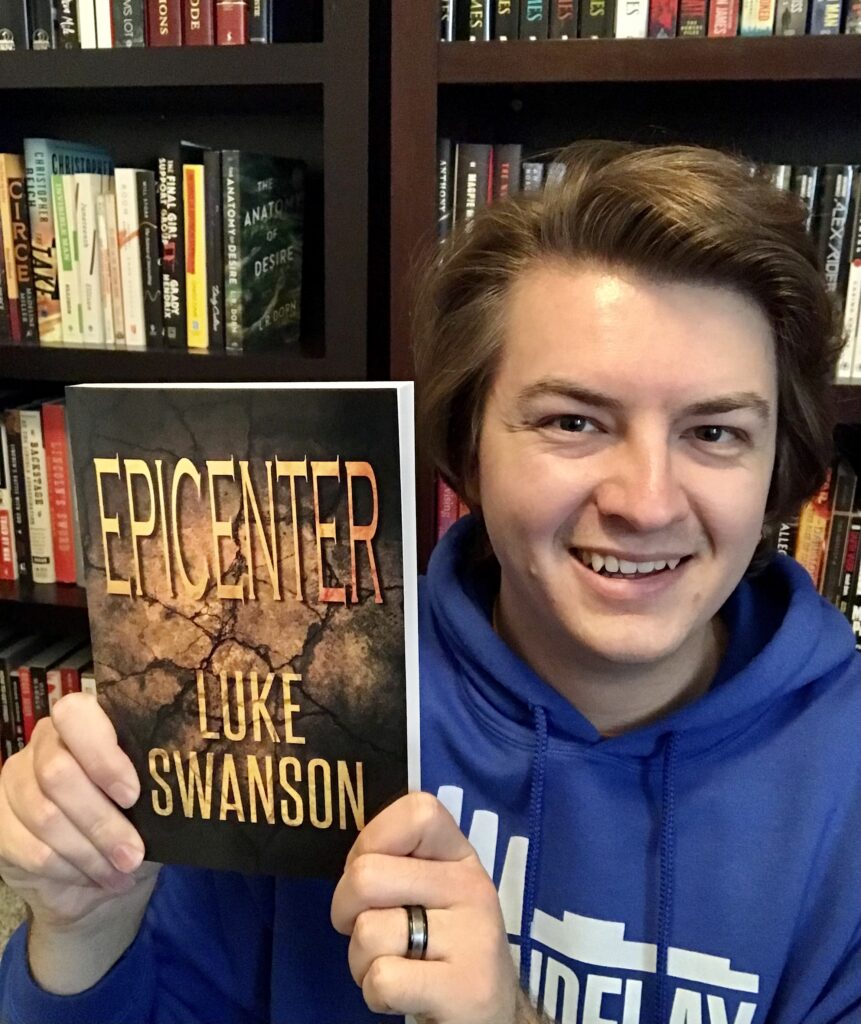 I feel you. Moving from historical fiction to urban fantasy was hardly a career move. What's your latest novel, Epicenter, about?
Epicenter is a standalone sequel to my first book, The Ten, which is a murder mystery. Epicenter shifts into full-on action mode—I've had a reviewer describe it as a Die Hard movie, which is high praise (as long as they're talking about 1, 3, or 4). On a hot day in Los Angeles, Detective Jason Flynn finds himself in the wrong place at the wrong time. He needs to keep a witness and a hostage safe as a brutal cartel is gunning for them all. And on top of that…the "Big One" hits. The worst earthquake in US history rocks the city, and Jason and his reluctant allies need to survive.
As someone whose life got upended by the Northridge quake, I thought that was a great twist, and you caught some of the chaos that would naturally follow while just trying to do your darned job. Where did the idea come from?
I love Jason Flynn, who I created as a lead in The Ten. I could have made a continuing crime series with Jason solving a murder every week, but I didn't feel I would do very well in that space. Michael Connelly and others have already mastered that genre. Thus, I took Jason and tossed him into an action movie. Epicenter specifically came from a few daydreams. For one, I wanted to put Jason through the wringer. In this story, he has the worst day imaginable, and his character arc reflects that. Also, I was inspired by the breakneck pace of Mad Max: Fury Road, as odd as that might sound. There's no stopping for a breath, there's only survival. I loved that idea. Being from OKC, I also am constantly toying with the idea of a mystery set during a tornado…and since Jason lives in LA, I transposed that obstacle onto him, with an earthquake.
What inspired you to be a writer?
 I've always been a huge reader, and the idea that someone somewhere someday might be inspired by a book I've written is what motivated me to put words onto a dauntingly blank page. I love stories, and I hope to share that love with my readers.
Who did you read as a kid that inspired (or corrupted) you?
As a young reader, my bread and butter was the Alex Rider series by Anthony Horowitz…and as a modern reader too, since I still keep up with that series. I love Steven James's thrillers too.
How can people contact you or learn more about your work?
You can follow or reach out to me on Instagram! I'm fairly reachable, and I'd love to chat with readers. You can also follow me on Goodreads to see what I'm reading and Letterboxd to see what I'm watching—after all, the media one consumes tells you a lot about them.
Speaking of Black Rose, the second in the Johnny Lycan series, Johnny Lycan and the Vegas Berserker, is coming out on December 8. If you want to be the first kid on the block to receive swag or news about the book, sign up for my newsletter by clicking the link on the side of the screen. Meanwhile, Johnny Lycan and the Anubis Disk is available now in paperback or Kindle.