The expansion into the west was so much more than cattle drives and gunfights. City life as towns like Denver and Kansas City grew made for great stories that we haven't necessarily heard a hundred times. That's why I was so intrigued when Randi Samuelson-Brown told me about her book, The Beaten Territory.
Okay, so what's the Randi Samuelson-Brown story?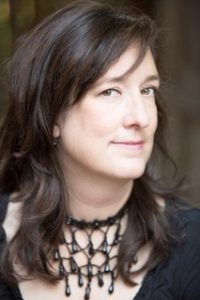 I am a fifth-generation Colorado native – and because I was the geeky kid who kept pestering the "old people" with questions, from an early age I was filled with a wealth of strange and historical stories.  I'm from Golden originally, and now live in Denver. My undergrad degree is in History and I love the more unusual facets of history. In my free time, if I'm not writing, I'm off combing the mountains for old historical relics and enjoy traveling around the world. I am a member of Lighthouse Writers, Colorado Author's League, Historical Novel Society and History Writers of America along with Women Writing the West.
The Beaten Territory isn't a standard "cowboys on the prairie" Western. What's the story in a nutshell?
The book is about Old West VICE – a 2nd rate Denver madam, her niece and a laudanum-addicted real estate woman and how their paths intersected in 1890's Denver.
How does a (presumably) nice girl get interested in a story like that?
When I was about twenty I was driving with a friend, crossing a bridge near Market Street in Denver (long since gone) and she commented "Yeah – my Dad's family has some bad blood. One was a Denver Madam and her niece was hooking for her and got killed." I was FASCINATED and the story, or the notion of it, stuck with me ever since. I started doing the research and sure enough, there was a Denver madam named Annie Ryan and her operation was a family business. The laudanum-addicted real-estate woman had ties to my family, and I thought "I wonder what would have happened if these two women met" and I took it from there!
I love the "what if" game. What's your favorite scene in the book?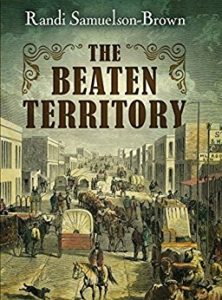 My favorite scene in the book is when Annie is approaches an unsuspecting Saloon owner about the possibility of her running girls outside the back of his saloon. She flirts with him… and….Let's just say alcohol was involved!
Where can people learn more about you and your book?
People can find the book on Amazon, Barnes and Noble, Gale/Cengage (Five Star Publishing imprint), and the Tattered Cover in Denver. I'm also on Good Reads and would welcome reviews and more friends! People can find me www.RandiSamuelsonBrown.com ,  on Twitter@rsamuelsonb1 and FaceBook "The Beaten Territory" as well.