Just when I begin to think I'm pretty hot stuff, I come across someone whose body of work is both impressive and intimidating. Such is the case with today's interview. Robert Vaughan, as you'll see, has been around a while. His publisher, Mike Bray at Wolfpack Publishing was hanging out at the Las Vegas Book Fest. I asked if he had any historical fiction authors I should talk to, and he couldn't connect me with Robert fast enough. Here's the deal on his (I'm estimating) 8 millionth book, The Town Marshal.
So for the uninitiated, tell us about yourself.
I was nineteen years old when I sold my first book.  That was 61 years ago, and since that time I've sold somewhere around 400 books under my own name, and 42 pseudonyms.  I wrote the novelization for the mini-series Andersonville, and wrote, produced, and appeared in the History Channel documentary Vietnam Homecoming.   As of this writing, (9 November, 2018) I have five books in the top ten of Amazon Western novels: #1, #2, #3, #4, and #7.
I have hit the NYT bestseller list eight times. I'm the recipient of the Spur Award, (SURVIVAL, writing as K.C. McKenna) the PORGIE Award (Best Paperback Original), the Western Fictioneers Lifetime Achievement Award, I received the Readwest President's Award for Excellence in Western Fiction, and I am a member of the American Writers Hall of Fame.
I am also a retired army Chief Warrant Officer with three tours in Vietnam. I now live with my wife and my dog on the beach in Gulf Shores, Alabama. (Editor's note: See? What'd I tell you?)
What's the story behind The Town Marshal?
The book , THE TOWN MARSHAL is a look at some authentic Western History. Its two main participants, James Cooper, and Henry Newton Brown, form a close friendship when, along with Billy the Kid, they fight in the Lincoln County War. After that, James and Henry move on, their bond of friendship growing even stronger as James becomes a crusading newspaper editor and Henry, a town marshal feared by outlaws and lauded by his peers and the towns he served.
But something goes wrong, and in an emotive moment, the two best friends find themselves face to face in a dramatic and poignant confrontation.
What is it about that time period that intrigued you enough to focus a book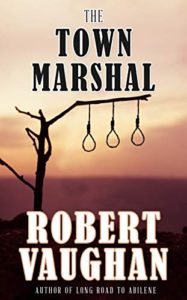 on it?
Of the two main characters, James Cooper is fictional, and I use him to propel the book, and to be a foil for Henry Newton Brown.  Brown is an authentic character with one of the most fascinating, and ultimately tragic life stories.  It was the authenticity of Brown's story that drew me to the book.
Without giving away spoilers, what's your favorite scene in the book?
One of my favorite scenes would be the defense of the McSween House in Lincoln. Alexander McSween was a much-respected attorney in Lincoln,  and during the Lincoln County War, his house came under siege.  McSween, James Cooper, Henry Newton Brown, and Billy the Kid occupied the house.  In addition there were three women and a young girl trapped in the house: McSween's wife, Susan, his sister-in-law Elizabeth Shields, Elizabeth's ten-year-old daughter, Minnie, and Katherine Gates, the local school teacher.
Where can people learn more about your impressive collection of work?
You can find the 9 Westerns I've done for Wolfpack Publishing on their website here.
You can also find me on my Amazon author page.
Subscribe to my newsletter and get a chance to win a signed paperback copy of  my upcoming novel.  Each month you'll receive links to interviews with great authors, news about upcoming events and previews of my work in progress, Acre's Orphans. Look at the bottom left of the page for the sign-up sheet. No spam, just once a month updates and a chance to learn about great new Historical Fiction of all types from around the world.