I'm thrilled that my short story "On the Rail" is going to be included in this years anthology from the Naperville Writers Group. Each year they get samples of writing from the membership and bind them in a paperback, called Rivulets.
This year is Rivulets 27. The launch will be held at the Naperville Library, 95th St
Branch on Saturday October 3 from 1-4:30. Join us for readings, prizes, and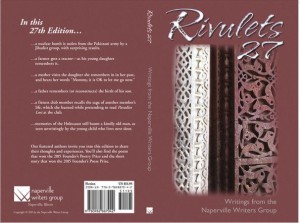 getting to know some of the excellent local talent.
ADDRESS
3015 Cedar Glade Dr
Naperville, IL 60564
Hope to see you there. If you like what you see, come join us  on Wednesday evenings. There's some great talent in the group.