I'm always fascinated by (and somewhat jealous of) people who can draw upon their family histories as the jumping-off place for historical fiction. That's because I know embarrassingly little about my own roots. I mean, I had ancestors, I just don't know anything beyond the fact I must have had great grandparents. That being said, I have definitely considered doing some research using an online census and some of the other resources over on the Genealogy Bank website. There is so much that I would like to learn about my ancestors and I have a lot of questions about my family tree so it would be absolutely fascinating to learn a little bit more about my roots. Deborah Lincoln, on the other hand, has used family history to write her tale of Missouri before the US Civil War, "Agnes Canon's War."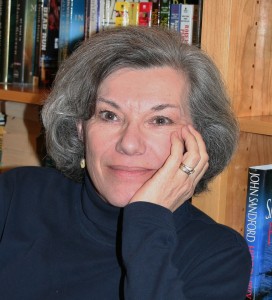 Deborah Lincoln has lived on the Central Oregon Coast for ten years. S. She and her husband have three grown sons. She was awarded first place in the 2013 Chanticleer Laramie Awards (best in category) and was a 2015 finalist for a Willa Award in historical fiction presented by Women Writing the West.
So tell us what the book's about?
Agnes Canon's War is the fictionalized story of my great great-grandparents' experiences during the Civil War in Missouri. Agnes Canon is 28 and a spinster when she leaves her home in Pennsylvania in the spring of 1852 to join a group of cousins who traveled to frontier Holt County in northwest Missouri. There she meets and marries Jabez Robinson, a doctor who was born in Maine and had traveled to the California gold fields and the army posts of the Southwest during the Mexican-American War. In the decade before the Civil War actually breaks out, both Kansas and Missouri are a battleground of politics and acts of violence, and Agnes and Jabez are in the thick of it. This is the story of two people who watch their family, their town, everything that keeps a society civil, crumble into a chaos they are powerless to stop.
What is it about this time period that intrigued you enough to write the book?
I had access to the basic facts of my ancestors' lives, which were compiled by a cousin in the 1970s. The characters were so exceptional, the events so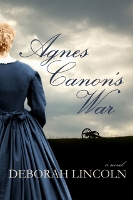 extraordinary, that I didn't want the story to die out. Agnes seemed to me to stand out from other nineteenth-century women, in that she chose to turn her back on her family home in Pennsylvania and venture into the unknown. She left behind six siblings, none of whom ever married or bore children, so her marriage and children were the only links to the next generation.
Jabez, too, was a fascinating and even romantic character: though he was born and raised in Maine, he held secessionist views during the Civil War and suffered from them. He was an adventurer, too, traveling to California and the Southwest in the 1840s, becoming a doctor in the face of all sorts of challenges, marrying his first love after a ten-year separation only to lose her within two months of the wedding. The "plot" was tailor-made for a novel, and though I left out lots of events and made up others, I hope I did them justice.
Without setting off the spoiler alert, what's your favorite scene?
Several of my favorite scenes would give away too much. So I'll choose an early one: a scene set in Cincinnati where Agnes and Jabez meet for the first time, an accidental encounter at a marketplace along the riverfront. I like it for the sense of being suspended between civilization and frontier, for the colorful characters and the bustle and excitement of an exuberant young town. It mirrors Agnes's hope for and optimism in her future.
Where can people find your award-winning book?
Agnes Canon's War is available on
Website: http://www.deborahlincoln.org
GoodReads: https://www.goodreads.com/book/show/21882293-agnes-canon-s-war
Facebook: https://www.facebook.com/deborahslincoln?fref=ts
Twitter: @dslincoln51
It's not based on my family, but if you enjoy historical fiction,you can check out The Count of the Sahara, available on Amazon or from The Book Folks