Full disclosure- zombies aren't my favorite monster, horror or fantasy trope. (Train to Busan is an exception.) Still, the ability to manipulate the dead with a little necromancy does offer great potential for storytelling. So I took this chance to check out MG Gallows first novel, Death Dealers.
I also asked some questions of the Red Deer, Alberta author. If you've never been to Red Deer, picture putting Waco , Texas exactly halfway between Edmonton and Calgary and you come pretty close.
M. G, tell everyone what your deal is.
I am a lifelong nerd, non-practicing edgelord, semi-retired resurrectionist, olympic-level procrastinator, and a recovering anatidaephobic. I love my homeland of Canada, because the deadly chill prevents Australia's giant spiders and drop bears from touching my feet while I sleep. My friends all have real jobs, to which I secretly envy and resent their success (they won't read this, will they?). I'm kidding about the Australia part. A very good Aussie friend is the reason I've even made it this far. Since 2016 I've cut my teeth writing freelance fiction for Wyrd Miniatures, and their awesome Malifaux gameline. I love writing stories, I think I'm pretty good at it. Death Dealers is my first novel. 
What's Death Dealers all about?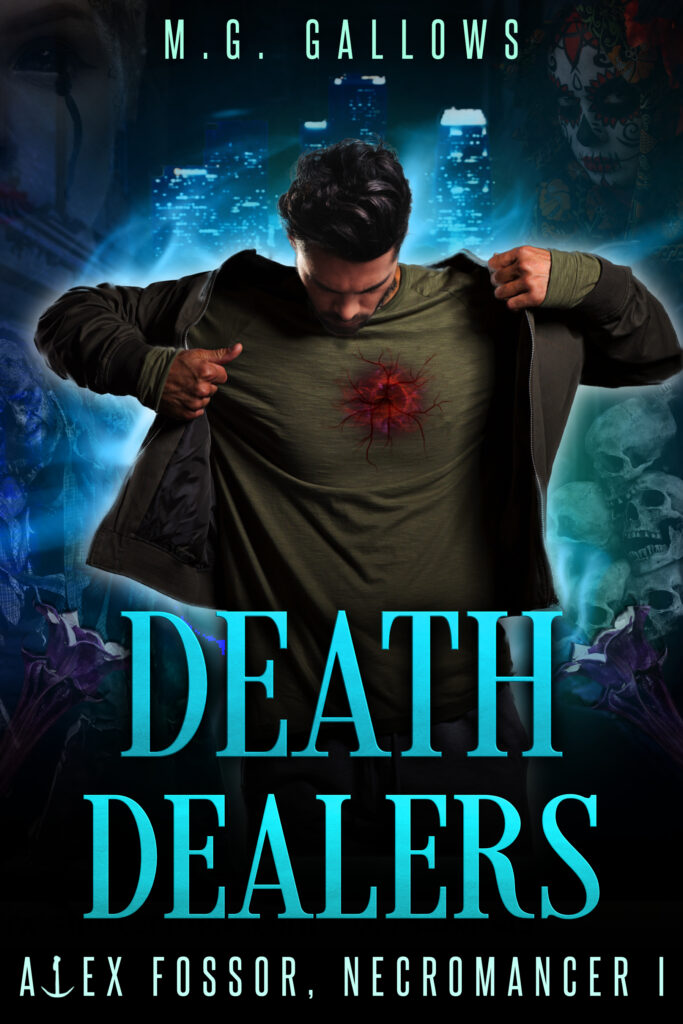 Death Dealers is about Alex Fossor, a necromancer trying to pull his life together after a bad breakup. He settled in the Pacific Northwest after discovering a community of wights – your garden variety 'thinking' undead – living in self-imposed exile underground. Compelled to help them deal with their condition, Alex sells his services as a crime scene cleaner to the city's crooks, 'disappearing' bodies so the wights have a steady supply of the human flesh they crave.
The story picks up when a client is murdered, and Alex is framed for the deed. This leads to a confrontation with the Rimbault Society, a centuries-old organization of mages who quietly run the world. Alex barely avoids an execution, but the clock is ticking..To clear his name, he'll have to deal with intrepid detectives, silver-tongued femme fatales, undead frat boys, foul-mouthed Irish Loa, and expose the true culprit before a hex on his heart burns him to ash.
"Undead frat boys" feels both creepy and redundant, but that's my issue. Where did this story sprout from?
Alex's beginnings stretch back decades, to my earliest experiences with vampires, zombies, and all things necromancy. I've always been fascinated by undeath, from Count Dracula and Frankenstein's monster, to George Romero's zombie plague that has become such a mainstay of our culture. Getting to play a necromancer in tabletop or video games was always an easy sell for me. But there's a huge stigma against necromancy in most fantasy settings, one I feel is largely hypocritical. A wizard can magically burn someone to death, and nobody panics. But then he reanimates the body to fight for him, and everyone loses their minds. I wanted to write a protagonist that walked that narrow shade of gray. Alex is someone you can relate to and even cheer for, but his methods are those classically given to a villain. He's the slasher-killer stalking victims at a summer camp, the coldly pragmatic mastermind using every resource – even the recently dead – to help him win, and occasionally he dips his toes into the stereotype of the cackling and sadistic necromancer. And he does it to serve his idea of justice, and protect the people he cares about.
Who do you read that folks should know about?
I discovered my love of fantasy with writers like RA Salvatore, Elaine Cunningham, and Paul S. Kemp. It was Elaine who introduced me to Jim Butcher's Dresden Files. Harry Dresden's colorful, cosmopolitan world of modern-day monsters has been a huge inspiration for many authors, including myself, but I would be remiss not to mention Diana Rowland's White Trash Zombie/Angel Crawford series. Punk rock and flesh-eating zombies go as far back as Return of the Living Dead, and I'm proud to carry that tradition forward in my novel.
Where can we learn more about you and your book(s) Goodreads, Amazon links, twitter, Facebook author page, website etc.
You can find Death Dealers on Amazon: https://www.amazon.com/dp/B092JPZH23
I'm on Twitter @mg_gallows and Facebook at https://www.facebook.com/MGGallows
You can signup for my newsletter on https://mggallows.wordpress.com/ Subscribers get access to free short fiction that ties in to the Alex Fossor novels. 
Johnny Lycan and the Anubis Disk is now available in paperback and Kindle, and available almost anywhere from #BlackRoseWriting. It's an American Book Festival Finalist for Best Horror of 2020. "If Raymond Chandler wrote about werewolves."