The trauma of World War 1 created the environment that allowed the '20s to roar. It was an amazing time of change and trying to figure out exactly what the hell had just happened. I was intrigued when I heard about John Anthony Miller's new novel, "Honour the Dead." It goes on sale November 1.
So what's the John Anthony Miller story?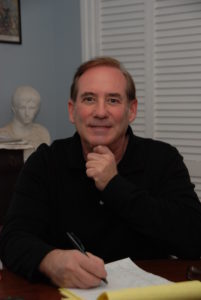 I like to write about ordinary people who are compelled to do extraordinary things, driven by events or tumultuous times. My first four books are about WWII, but not generals or admirals or politicians, but a reporter, a history teacher, a banker, a violinist. They become heroes, just as many other ordinary people became heroes during the global conflict, their stories difficult to imagine in a world that is now so different, but in some ways, still the same. I also like to use the location of the novel as a character, often exotic, richly described, a place where people have either been or might someday like to go. My first four books are set in Singapore, Berlin, Lisbon, and Paris. For my fifth novel, a murder mystery entitled Honour the Dead, I chose Lake Como, Italy, one of the most beautiful places in the world and a personal favorite of mine.
I agree, I prefer writing about "ordinary" people as well. What's "Honour the Dead," about?
Honour the Dead is about six English survivors of WWI who converge on Lake Como, Italy in 1921: four men, two women = one corpse and one killer.
Penelope Jones, a wealthy socialite, is admitted to Lakeside Sanitarium, convinced someone is trying to kill her. Her husband, Alexander Cavendish, a WWI hero, is having an affair with her closest friend and owes gambling debts to Billy Flynn, a London gangster. Her father, Wellington Jones, is fighting the collapse of his business empire and knows about Cavendish's affair and gambling debts. Wellington needs money desperately and knows Penelope will inherit Cavendish's estate. Dr. Joseph Barnett, Penelope's doctor, struggles to control images of a war he can't forget. He despises Cavendish, having served with him in the war. Barnett doesn't see a war hero, but a despicable murderer who forced young men to die. Rose Barnett, the doctor's wife, is a famous poet with a sordid secret. Rose was a nurse in France during the war, where she committed five mercy killings on horrifically wounded soldiers. Cavendish, the only witness, is blackmailing her. Who is the corpse and who is the killer?
I am a total geek for the post-WWI era. What is your fascination with it?
I set the novel in the 1920's because I was intrigued by the utter devastation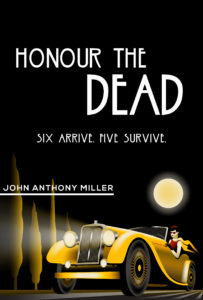 wrought by the First World War, which has since been overshadowed by the cataclysmic Second World War. I wanted to write about survivors, people desperately trying to forget the horrific tragedies they endured, losing family and friends, neighbors and coworkers – all victims to a war waged in muddy trenches with chlorine gas, the horror amplified by modern inventions like the tank and airplane. And even in 1921, three years after the fighting ended, I wanted to show that, regardless of how bright the future might seem, the past still clings tightly, refusing to let go.
Without giving away the farm, what's your favorite (or favourite) part of the book?
My favorite scene from Honor the Dead is the epilogue, where a series of twists and turns show the reader that nothing is ever as it seems.
I think you may be the first person to say "the epilogue." Now I'm intrigued. Where can we find more about you and your work?
https://www.amazon.com/JOHN-ANTHONY-MILLER/e/B00Q1U0OKO/
https://www.goodreads.com/author/show/9787380.John_Anthony_Miller
https://twitter.com/authorjamiller
Website:  http://johnanthonymiller.net/
Subscribe to my newsletter and get a chance to win a signed paperback copy of  my upcoming novel.  Each month you'll receive links to interviews with great authors, news about upcoming events and previews of my work in progress, Acre's Orphans. Look at the bottom left of the page for the sign-up sheet. No spam, just once a month updates and a chance to learn about great new Historical Fiction of all types from around the world.