When the characters in your book say something despicable, stupid or "politically incorrect," does that mean that the author is a racist, an idiot or a bad human being? This has been the topic of conversation, some of it fairly heated, at my writer's group lately.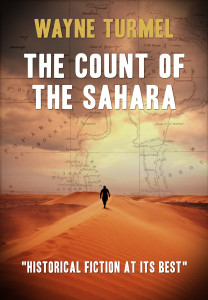 Historical fiction is particularly susceptible to this kind of discussion, because the characters must necessarily reflect the ethics and flavor of the time. My novel, The Count of the Sahara, takes place in the 1920s. This was a long time ago, and many attitudes have changed. Things that people said and believed then may seem outdated, wrong or even awful to us today. Don't believe me? Get your Great-Grandma drunk and bring up the topic of race…. try not to be too scandalized by what comes out of her mouth–remember she's old.
One of the few disagreements with Erik, my editor at TheBookFolks.com (a thousand blessings on his house and camels) was over just such a scene. Willy, a naive 19 year old German-American kid from Milwaukee walks up to the front desk and in his mind tries to place the ethnicity of the desk clerk.  In the original draft,  he looks at the slicked back hair and prominent nose and thinks he "must be a Jew or a Hungarian or something."  The points I was making were a) in the cities of early 20th Century America, racial identity was just part of the landscape so this was the way Willy would think and b) the big dummy wasn't anti-Semitic, just curious about where the desk clerk was from and probably couldn't tell the difference between a Jew and a Hungarian. It wasn't a judgment, it was an observation.  It also wasn't a hill I was prepared to die on. Did I mention I lost that argument?
We had a similar dust-up at the Naperville Writers Group over the use of the "N" word in someone's writing. Does the use of a certain hot-button word in your fiction condone it? One of my fellow writers actually made a great distinction: if it's inside quotation marks, or the narrator is clearly identified as a specific character, you can get away with it. If the narrator is "third person omniscient," then that narrator is basically you. If your character says something hurtful or insensitive, that's one thing. If "you" do, perhaps you should reconsider.
Maybe I'm a liberal wimp, but I actually cringe a little when one of my characters says something I disagree with. It's not being a slave to "political correctness,"  I consider it common courtesy. Do I want to unintentionally cause offense to someone? I  stop and think twice before writing something that I think might be hurtful to a reader, even if that's not my intention.
Probably, though, I'll write it anyway because that is what the character would do in that time and place. I'm not a 19 year old, big city, immigrant kid, and I don't think like one. When I'm writing that character though, he's not me either.
Maybe all fiction should contain a disclaimer: "Warning, opinions of the characters are not necessarily those of the management."
Or maybe readers can just lighten the hell up a bit. Both work for me.