Sometimes it's hard to believe that our great grandmothers had to fight for the right to vote, and that meant fight. Those Suffragettes were some bad-ass women, and God bless'em for it. British author Jacqueline Beard has written a novel that captures the tension of that time, and combines it with a murder mystery to paint a picture of the beginning and end of the Victorian age.
So what's the Jacqueline Beard story?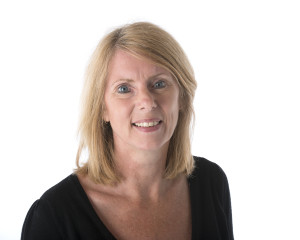 I'm a writer and genealogist, and have traced my family back to 1517 in the county of Suffolk in England.  I now live in the beautiful Cotswolds in Gloucestershire but visit Suffolk often. I am married with two children and a delinquent border terrier.
So give us a quick idea of what your book's about.
Vote for Murder is a tale of two murders.  A census night evasion has been planned in Ipswich following years of fruitless campaigning which left the suffragettes no closer to gaining the vote.  When Louisa Russell finds an old diary, it leads to revelations about a Victorian Suffolk murderess. Louisa finds herself involved in suffragette protests while investigating two horrific murders – and the murderer is getting too close for comfort.
What is it about that time frame–actually frames, since you're going back and forth– that intrigues you?
Where to start!  Victorian murderess Mary Cage appears in my own family tree.  She confessed to wicked, immoral behavior but despite all the evidence against her, she always denied murdering her husband.  Mary lived in abject poverty in a society where the only help for the destitute was the workhouse.  I wanted to get under her skin to work out how much the poverty contributed to her depravity.
The second murder involved a family of suffragists.  My genealogy also includes middle class suffragists Ada and Bessie Ridley who had close connections to Millicent Fawcett, leader of the National Union of Women's Suffrage Societies.  I find the various factions of the suffragette movement fascinating; Millicent Fawcett's mainly peaceful suffragists on the one hand and Emmeline Pankhurst's militant suffragettes on the other.  My book is set in 1911 when many suffragists throughout the UK hid themselves away to avoid the 1911 census.  It was a peaceful protest but it wasn't long before British suffragettes were chaining themselves to railings, performing acts of vandalism and breaking the law where they felt it necessary. Vote for murder contrasts the poverty of the 1851 murder with the relative wealth of the families in the 1911 murder.  Interestingly there's a Meryl Streep film coming out shortly called Suffragette.  I will be first in the queue to see this at the cinema!
What's your favorite scene in the book?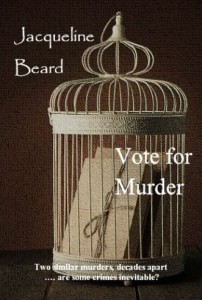 It's not so much a scene, as a change of perspective.  The book is written in three voices but the one I enjoyed writing the most was that of Mary Cage as she described, in her own words, the events that led her to the gallows, writing her personality to alter according to events.  It was interesting to use the language and words prevalent in Victorian times and there were several colloquialisms peculiar to Suffolk that I was able to insert for authenticity.  I researched real newspaper extracts of the murder and kept faithfully to the story while developing Mary's fictional character.
Vote for Murder can be found at Amazon.co.uk and Amazon.com and in paperback at Lulu.com
Jacqueline's Blog:        https://jacquelinebeardwriter.wordpress.com/
Twitter:   @Jacquibwriter
Facebook:  https://www.facebook.com/VFM1851