Okay, full disclosure. I love pirate stories. Like a little kid, I dig all sailing stories, although I get violently seasick and wouldn't last two days on a real sailing ship. Doesn't mean they're not fun to read, which brings us to this week's interview with Harry Nicholson, about his newest book, The Black Caravel.
So, Harry. What's your deal?
I live in Eskdale, near Whitby, in North Yorkshire. My first career was in

the British merchant navy as radio officer on cargo ships sailing the huge triangle between Europe, India and the USA. A second career followed in television studios. I now spend time on art, poetry, storytelling, and the teaching of meditation.
I believe the word is eclectic. At any rate, what's the story about?
'The Black Caravel' is my second historical novel. It is double stranded, but intertwined. It centres on a farming family in the North of England at the time of the Pilgrimage of Grace, the year 1536, when the North rose in rebellion against Henry VIII's seizure of the abbeys and monasteries. The head of this large family, Tom Fleck, is married to an illegal immigrant, a Jewish woman; a dangerous situation in 16th century England.
We meet his daughter, a blind girl with her dog, on the Durham shore. At home, her mother has a letter from London. Husband, wife and blind daughter must journey to London through the chaos of rebellion. Meanwhile their two eldest sons are crew of a venerable and worn out trading ship, at risk of wreck and the violence of pirates.
It's funny, I don't care about the Tudors at all, but love me some pirates. These are the "Barbary" (Moorish) kind. What's the draw for you?
I'm attracted to this period of history. It is just prior to the recording in English parish registers of the events in the lives of ordinary people. Unless individuals were noble or notorious we have no means of knowing of their existence. I try to bring life, at least a fictional life, to lost generations who are the ancestors of many today.
I try to honour ordinary people, their landscape and the wild creatures that live in it; so perhaps my style has a touch of the poetic and heartfelt.
It's an unfair question, but what's your favorite (or favourite, I'm bilingual) scene in the book?
I most enjoyed writing of the ancient merchant ship drifting lost, through dense fog, and the response of her crew when the fog suddenly lifted to unveil the danger they faced.
Where can people find The Black Caravel?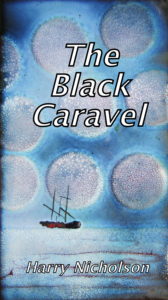 'The Black Caravel' is listed on Amazon in paperback and for Kindle.
https://www.amazon.co.uk/Black-Caravel-Harry-Nicholson/dp/1535378085/ref=sr_1_1?s=books&ie=UTF8&qid=1474038645&sr=1-1&keywords=caravel
https://www.amazon.com/Black-Caravel-Harry-Nicholson/dp/1535378085/ref=sr_1_1?s=instant-video&ie=UTF8&qid=1474038710&sr=8-1&keywords=The+Black+Caravel
And on Goodreads:
https://www.goodreads.com/book/show/31804643-the-black-caravel
Please visit the blog that features my writing and enamel art:
https://1513fusion.wordpress.com/
Thank you for reading.