Full disclaimer: I view Westerns like I view Super-Hero movies: I know that most of what I'm seeing or reading is as much mythology and wish-fulfillment as  history, but that's okay as long as they're fun. I'm also aware that there are political and social ramifications associated with them. I just maintain a healthy skepticism/cynicism about it all and enjoy the ride. Some people, though, take the whole "Wild West" thing very seriously and that's where today's interview comes in.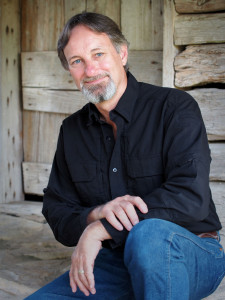 Anthony Whitt is a darned good writer from the Austin, Texas area. He's currently working on a trilogy about the hardy settlers that scratched a living out of the Texas Hill Country surrounding Austin after the Civil War. Hard Land to Rule is first in the trilogy that takes the reader on a ride through treachery, greed, lust, and death in a riveting tale that's more than just another western. Cold Hard Ride continues the story as the characters battle their inner demons and devious enemies in the hills and the hellhole known as Austin. His goal is to create a trilogy with continuity, but make sure each book delivers a compelling story in its own right. The third book has a release date planned in the spring or summer of 2016.
So briefly, what's the Hard Land to Rule trilogy all about?
Hard Land to Rule is a story of faded love, forbidden temptations, treacherous adversaries, and the conflict of competing interests on the Texas frontier. Returning from the Civil War where he served as a sergeant, Matt is forced to deal with a marriage complicated by a tragic death and the alienation of his wife. He can't seem to find the right combination to patch things up despite his dedicated efforts to provide for his family and maintain his ranch in the hills. The times are economically tough after the war and opportunistic carpetbaggers prowl the countryside searching out targets for their aggressive efforts to secure ranchlands burdened with overdue taxes. Raiding Comanche complicate the harsh conditions he faces in the Hill Country while he is also forced to battle the unscrupulous politicians and businessmen that call Austin home. Surrounded by overwhelming problems it's no wonder that an attractive neighbor with a struggling marriage of her own tempts him with her siren song of seduction. A proposition to serve as a Texas Ranger seems to offer an answer to his tribulations, but opens him to a plague of personal doubts and uncertainties that threaten to undermine the life he has worked hard to mold out of an unforgiving land.
Besides a higher than usual loathing for Texas politicians, what is it about the story that grabbed you?
Throughout the early years of my youth, my grandparents and their tales of the old days exerted a heavy influence on me. My grandfather often talked about his time as a cowboy working the ranches in the rugged hills west of Austin. During the first years of his marriage to my grandmother they actually traveled and lived out of a covered wagon to follow the work wherever it was available. As a young boy on family drives through the Texas Hill Country I can still recall them pointing out the locations of Indian trails they remembered seeing in their younger years.
My grandfather also regaled us with tales of his grandfather, a sergeant in the Civil War and a famous Texas Ranger with a colorful history. One of the favorite stories I grew up hearing from him was about an Indian raid on his grandfather's homestead west of Austin. Despite my great-great grandfathers reputation as a well-known Texas Ranger the Indians gave him little respect and singled his place out for a raid. The tale always fascinated me and I set out to write a fictionalized short story about the event unaware of where the decision would lead. After the story received early praise, it transformed into a full-length novel that needed room to grow. As a result, the decision to write a short story became a life changing moment that gave birth to the Hard Land to Rule Trilogy.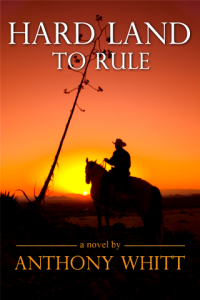 What's your favorite scene in the book?
It's hard to pick a favorite scene in Hard Land to Rule because I strived to stitch the chapters together in a cohesive flow of storytelling. But if I have to select my favorite scene it would be the one where three innocent characters are oblivious of their danger as they stroll into a Comanche ambush guaranteed to inflict death and perhaps rape if things proceed as the warrior plans. The reader is fully aware of their impending peril and is forced to take the walk with them unsure of their collective fate. The buildup of tension is such that my editor advised me not to change a single word in the scene. Naturally I was delighted to receive this kind of advice.
For what it's worth, I think your strongest writing is in the action scenes, so I tend to agree. Where can people learn more?
His website       www.anthonywhitt.com
Twitter              www.twitter.com/AnthonyWhitt_
Facebook           www.facebook.com/AnthonyWhitt.Author
Goodreads            www.goodreads.com/author/show/7334347.Anthony_Whitt