Indie writers are a tough breed, and the best and smartest know how to help each other. That's how groups like #goindienow come together: authors banding together so they don't all starve separately. Lately, I've been asked to play in the sandbox (you can watch the interview here.) with some of them like Madilynn Dale and today's guest, Bob McGough.
Bob is the author of the Jubal County urban fantasy saga that stars a meth-addicted redneck wizard. Makes me wonder if Howard Marsh and Johnny would get along or just try to kill each other… but I digress. Here's my conversation with Bob McGough.
Bob, here we go. Tell us about yourself.
I'm Bob McGough, an author born in the backwoods of Alabama. I trekked out from the wilds to get a couple of perfectly useless degrees, then decided to become a writer, because I must enjoy poverty. I've lived a pretty wild and varied life, but balance that by being a boring technical writer by day. I do a lot of other projects beyond writing however, from podcasting and indie ttrpg game design to short filmmaking and running an arts supporting non-profit, because I like to compensate for my lack of money with lack of sleep!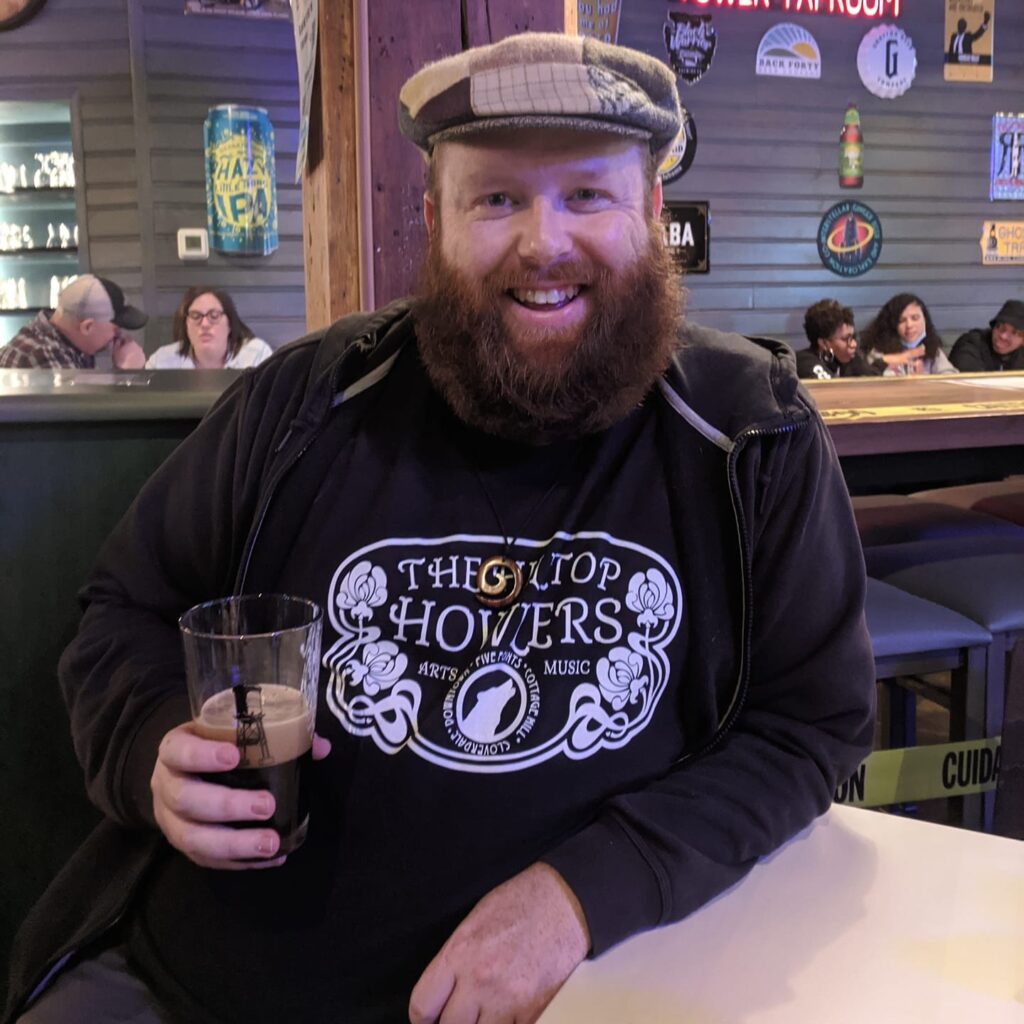 What should new readers know about your work, man?
My main series is the Jubal County Saga, which is about a redneck wizard with a crippling meth addiction solving backwoods occult mysteries. The main character, Howard Marsh, is this thoroughly inept wizard who does everything he can to avoid honest work, instead opting to support his lifestyle by water witching and stealing copper from air conditioners. But along the way, you start to get hints that under his prickly, thieving exterior is the core of a good man who's simply forgotten that fact. Each book is actually made up of two self-contained novellas, each tackling a different bizarre mystery, though the scale tends to be fairly small. Marsh is not the man you call in when lives are on the line, or the world needs saving.
Where the great oogly-woogly did the idea come from?
The genesis of Howard Marsh and the world of Jubal County is heavily based on the people and places I grew up around. The deep south has this stereotype of genteel life I think, but for those of us who live here, we know that there is a lot of dirt under the fingernails, and a lot of abject weirdness if you know where to look. I like to play with expectations where I can, showing that the south isn't this monolithic culture of evangelical white conservatives by any stretch. There are people here from all walks of life and political leanings, and I want to showcase that. My focus though tends to be on the forgotten people, the outsiders living on the edges of society, for whatever reason.
As for the magic, it's a mix of folk legends, spell jar hoodoo, and a lot of mythology, usually celtic. I based Jubal County on an area that has a large scots-irish immigrant heritage, and I play with the idea that the ancestral memories sort of inform the mystical, hidden world that Marsh finds himself having to handle. One of my degrees is in Anthropology, and that has informed a lot of my interests over the years. In college I used to take people on what were essentially ghost tours (even though I wouldn't consider myself a believer), and on one of those treks I stumbled on a spell jar in a graveyard. Finding it, which spurred a lot of research on my part, was really the first step on what would eventually become the magic of Jubal County.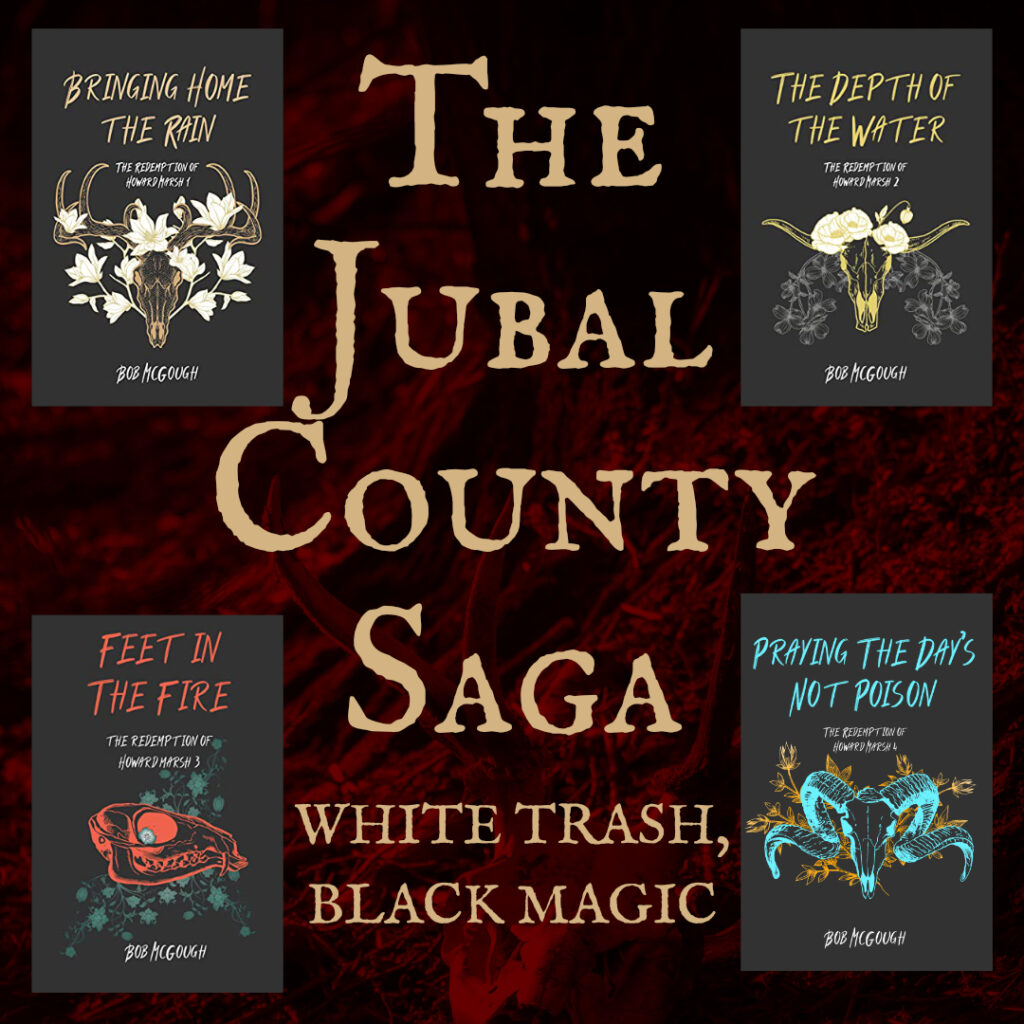 Who did this to you? Who do you read that influences your work?
My favorite author is Glen Cook, especially his Black Company series, which to this day is still my favorite fantasy series. In the Urban Fantasy space I enjoy a good number of my indie/small press peers, like Ben Meeks, Alexander Nader, VK Fox, John Hartness, and Bobby Nash. I also read a ton of horror, with Paul Tremblay and Adam Neville being some of my more recent favorites. I think Frank Herbert's Dune is the best sci-fi novel ever written. A couple of small presses everyone should check out are Crone Girls Press and Falstaff Books.
Where can people learn more about your books, games and all the wonder that is you?
The one-stop shop for all things Bob related is my website: talesbybob.com. On Goodreads and Amazon, a search of Bob McGough will guide you to me and my works. And finally, I am on all the major social media platforms and Patreon as talesbybob. I love to hear from folks, especially other authors, or people working to become one, so feel free to reach out on the contact form on my site.
Not to hijack Bob's time, but we're less than a month from the launch of Johnny Lycan and the Vegas Berserker, book 2 of the Werewolf PI series. While you're ordering the Jubal County Saga, preorder your next favorite read.